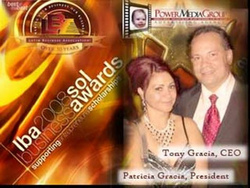 We love your business, as we love our baby.
Santa Clarita, CA (PRWEB) August 1, 2008
At the Biltmore Hotel in Los Angeles, Calif., Power Media Group (PMG) President Patricia Gracia, Peruvian, and CEO Tony Gracia, Puerto Rican, are the winners of Latin Business Association Sol Awards 2008. The Sol Awards achievement is accorded in recognition and appreciation for exemplary commitment to the Latino business community through PMG's leadership and service.
Held each year, this year's Sol Awards Gala held on July 26, 2008, set the backdrop for a premier Latino business networking and recognition event. The black-tie event attracts a who's-who of the Latino entrepreneurial, corporate and political worlds.
PMG qualified earlier in 2008 under very strict SBA guidelines for a Small Business Administration (SBA) Real Estate Loan, based on the firm's projected productivity and on its delivery of innovative services to clients. With the loan, PMG purchased its 11,000 square-foot commercial building and new home for clients.
Along with the beautiful Sol Awards gold statue, PMG received Certificates of Recognition from:

California Legislature, Assembly
The Honorable John Chang, California State Controller
State Of California Board of Equalization
PMG received a book containing greetings and congratulations from:

The White House, President George Bush
Ruben Guerra, LBA Chairman
Governor Arnold Schwarzenegger
Lieutenant Governor John Garamendi
Mayor Antonio Villaraigoza
Dianne Feinstein, United States Senator
Hillary Rodham Clinton, United States Senator
Grace Napolitano, House of Representatives (Washington, D.C.)
About POWER MEDIA GROUP
A premier advertisement agency offering innovative and effective media buying, marketing and public relations services, Power Media Group has attracted widespread interest from advertisers by its successful operations in attracting the Hispanic market to PMG clients. Situated in the #1 Hispanic market by research firm Syncopate, PMG crafts magnetizing messages designed to harness the Hispanic consumers buying power of a trillion-dollar market segment.
PMG staff members are experts across a range of advertising segments. Clients which patronize PMG include: Clients: Universal Music Latin, Vivendi Visual Entertainment, NYX Cosmetics, Xenon Pictures, Creativa Interiors-Primor, The Perfume Club, AB Underwear, Costamar Travel Intl., New Concepts, Success Masters by Design, Laboratorios Mallo, and Selman Chevrolet, among others.
Founders Patricia and Tony Gracia serve clients with the respect and care they've presented since the beginning of the firm and stand true to their motto: "We love your business, as we love our baby."
Visit http://www.powermediagroup.com/testimonials.html to view client testimonials.
MEDIA: To schedule an interview, contact Patricia Gracia at (818)415-3230 or e-mail pgracia@powermediagroup.com
ONLINE NEWSROOM: http://www.eworldwire.com/newsroom/306705.htm
RSS NEWSROOM: http://newsroom.eworldwire.com/xml/newsrooms/306705.xml
Source: POWER MEDIA GROUP
Patricia Gracia
POWER MEDIA GROUP, Inc.
17960 Sierra Hwy. Suite # 100.
Santa Clarita, CA 91351
PHONE. 661.621.9365
# # #