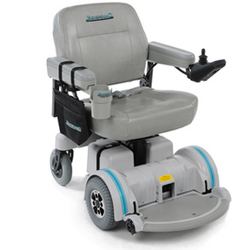 We already know what a tremendous asset a Hoveround power wheelchair is for everyday mobility
Sarasota, FL (Vocus) November 11, 2010
Hoveround, the leading direct-to-consumer manufacturer and supplier of power wheel chairs, is the first and only power mobility supplier to make practical, carry-all convenience a fully integrated component on all its power wheelchairs. Starting immediately, Hoveround Corporation will include a handy side tote bag and sturdy cup holder as standard equipment on every new power wheelchair it manufactures.
Tom Kruse, the inventor and founder of Hoveround, expressed genuine excitement about the new features launch and offered his thoughts on what this will mean for Hoveround customers.
"We already know what a tremendous asset a Hoveround power wheelchair is for everyday mobility," Mr. Kruse began. "Now, imagine not only having the freedom to go about your daily activities again, but also enjoying even more independence with around-the-clock access to your medications, your cell phone, a paperback book, or a thirst-quenching beverage - all from the convenience of your power chair. Only Hoveround provides this mobility advantage to every new power wheelchair owner."
The Hoveround side tote bag's durable, canvas construction makes it safe to take essentials along for the ride. Compact, yet roomy, the side bag measures 11 inches with two external pockets and internal mesh compartments for storing and accessing even the smallest of items. A spring loaded closure easily keeps the tote open and closes it securely without clamps or hooks.
The shatterproof cup holder mounts directly onto any Hoveround armrest, allowing stable transport of beverages while helping prevent unwanted spills. It can also be removed for easy cleaning and reattached without difficulty. With this convenient cup holder, Hoveround owners can experience renewed mobility and never be without their favorite drink.
With these latest convenience features included on every new power wheelchair, Hoveround continues to prove itself as the best choice in power mobility solutions.
For more information on the new Hoveround features, visit http://www.hoveround.com or call 1-800-542-7236.
About Hoveround Corporation
Hoveround Corporation has dedicated nearly 20 years to providing mobility solutions, such as power wheelchairs, which genuinely improve the quality of life for those with limited mobility. Hoveround is the only power wheelchair manufacturer that delivers directly to the customer, providing over 150,000 power wheelchairs to those in need. Every Hoveround power wheelchair is custom assembled in the U.S.A.
Hoveround Corporation mobility solutions also include the HOVERLIFT® suite of personal mobility and lifting solutions, wheelchair ramps, and other mobility accessories to help those with mobility challenges regain their independence and freedom.
###