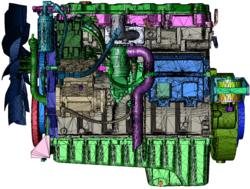 This new PowerDELTA release further automates the mesh preparation process allowing fast, fully detailed, fully-connected mesh creation.
Burlington, MA (PRWEB) June 04, 2012
Exa® Corporation, a global innovator of fluids simulation solutions for product engineering, announces the release of PowerDELTA® 1.6, the latest version of its innovative mesh preparation solution, further streamlining and automating the simulation-driven design process. PowerDELTA 1.6 significantly reduces the time required to prepare meshes for thermal analysis simulations with Exa PowerTHERM® —from days or weeks to only a few hours in some cases. Enhancements include specialized features for producing high-quality thermal meshes and pre-packaged templates that encapsulate best practices and automate the process.
Thermal analysis meshing has been historically difficult and has strict requirements for the quantity and quality of the mesh facets. In order to achieve accurate prediction of conduction, all components in a simulation-ready model must be fully connected—a daunting task. "Mesh preparation is typically a time-consuming, error-prone and hard to automate process, often taking weeks to prepare baseline models," remarked Alexander Mackenzie, Vice President of Product Management for Exa. "This new PowerDELTA release further automates the mesh preparation process allowing fast, fully detailed, fully-connected mesh creation. We are confident that our new enhancements and field-tested templates will accelerate case preparation for PowerFLOW® and PowerTHERM simulations allowing our customers to further speed their overall simulation process."
The PowerDELTA process for feature-based aerodynamic and thermal mesh creation now includes:

Wrapping: PowerDELTA's Wrap feature automatically wraps and joins many individual parts into water-tight mesh components suitable for fluid analysis. Automatic refinement, gap detection and other smart algorithms ensure a high quality wrap of even the finest details.
Mesh Union: Automatically intersects and joins large mesh components into a single connected mesh (needed for thermal analysis) while preserving the original boundaries.
Re-mesh: Automatically adjusts all the facets to meet the thermal solver's quality requirements.
Decimate: Reduces facet count to a user-specified target number.
Auto-fix: Provides a final check on mesh quality and automatically performs local adjustments to the facets to ensure the desired mesh quality.
About Exa Corporation
Exa Corporation develops, sells and supports simulation software and services to enhance product performance, reduce product development costs and improve the efficiency of design and engineering processes. Our simulation solutions enable our customers to gain crucial insights about design performance early in the design cycle, thus reducing the likelihood of expensive redesigns and late-stage engineering changes. As a result, our customers realize significant cost savings and fundamental improvements in their engineering development process. Our products include, PowerFLOW®, PowerDELTA®, PowerCLAY®, PowerVIZ®, PowerSPECTRUM®, PowerACOUSTICS®, PowerINSIGHT®, PowerCASE™, PowerCOOL® and PowerTHERM® along with professional engineering consulting services. A partial customer list includes: AGCO, BMW, Ford, Hyundai, Kenworth, MAN, Nissan, Peterbilt, Renault, Scania, Toyota, Volkswagen, and Volvo Trucks.
Founded in 1991, the company is headquartered at 55 Network Drive, Burlington, MA, USA 01803. Tel: 1.781.564.0200; Fax: 1.781.564.0299; Email: info(at)exa(dot)com; URL: http://www.exa.com