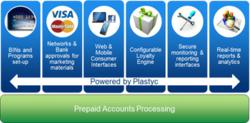 Offering customers truly superior prepaid banking options can create a more direct relationship between customers and service providers, and giving both a stronger sense of loyalty and trust
New York, NY (PRWEB) January 15, 2013
Plastyc announced today a new Powered by Plastyc platform to help banks, payroll companies, wireless carriers and other businesses offer their customers full-featured, branded prepaid card services.
Working with H&R Block, the nation's largest tax preparation company, Plastyc powers the company's Emerald Online, the H&R Block Emerald Prepaid Mastercard®, online interface which enables cardholders to easily perform the following tasks and more:

Access transaction history and balance and print statements
Sign up for text and email alerts
Add prepaid minutes to their cell phone and pay bills
Manage cash-back reward offers.
The online services, which launched nationwide in November 2012, also enable H&R Block to engage cardholders with customized offers and messages such as targeted cash back rewards from select retailers or invitations to other financial services such as savings accounts offered by H&R Block.
Plastyc has proven experience providing dynamic online and mobile user experiences and functionality not available elsewhere in the prepaid card industry.
"We want our cardholders to have a best-in-class online banking experience. Plastyc is a leader and innovator. Combining that experience and innovation with Emerald Card creates a world-class program for our clients," said Susan Ehrlich, president of H&R Block financial services.
The Powered by Plastyc program is built on Plastyc's experience delivering award-winning, high value prepaid card services to working adults as well as students striving to improve or establish their financial standing. It helps businesses improve their existing branded prepaid card services or quickly deliver a best-in-class new prepaid card program using a proven, turnkey platform.
"Offering customers truly superior prepaid banking options can create a more direct relationship between customers and service providers, and giving both a stronger sense of loyalty and trust," said Patrice Peyret, CEO of Plastyc. "Prepaid card programs powered by Plastyc provide the best consumer value in the industry."
About Plastyc
Plastyc delivers good banking to all by providing 24x7 access to FDIC-insured accounts through any Internet-connected computer or mobile device. Unlike traditional checking accounts, Plastyc's iBankUP portal and UPside cards never incur overdrafts, and they offer better services at lower prices, with more ways to receive money and no risk of over-spending it. Plastyc's principals and directors have a track record as financial services innovators at companies including Gemalto, Oberthur, Signio (now part of PayPal, an eBay company), ClairMail, Lending Club, and Genetic Finance. Plastyc is privately held with headquarters in New York City. For more on Plastyc, visit http://www.plastyc.com.