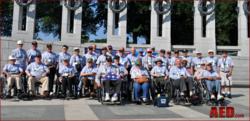 Each and every flight is completely free for the veterans, with guardians and those volunteers who serve as escorts each trip all paying their own way for the honor of spending the day with these men & women who are living pieces of history."
Brentwood, TN (PRWEB) July 06, 2012
When AED.com announced its 100 AED Giveaway campaign earlier this year, it had no idea that it would have the honor to donate a unit to a group that escorts our WWII veterans and heroes to Washington, DC in order to visit the World War II Memorial. "The heroes of WWII in particular are being lost at an alarming rate, many of them are not physically or financially capable of traveling to see the memorials their nation built to honor them. Honor Flight's mission is to give them the opportunity to know how grateful this nation is to them," says Michael Turnington, RN-BSN, CCRN, who helps escort the veterans.
Turnington goes on to say, "Honor Flights also transports veterans of all wars giving WWII veterans and those who are terminally ill priority. Each and every flight is completely free for the veterans, with guardians and those volunteers who serve as escorts each trip all paying their own way for the honor of spending the day with these men & women who are living pieces of history."
When AED.com President, Matthew Spencer, heard that a veteran's group was in need of an AED, he knew this was the kind of cause the company wanted to support. "Both of my grandfathers served during World War II, Korea and Vietnam. I, personally, have the utmost respect for service members, past and present," he says. "I lost both of these heroes in recent years. They were extraordinary men and represented what is known as the Greatest Generation…for good reason. This small gesture is the least we can do to support such a worthy organization."
Mr. Turnington is a Coast Guard veteran and wanted to give back through the Honor Flight program. He explains his initial interest in an AED: "Part of my Coast Guard and Nurse training provoked me to ask what supplies we were taking and if there was an AED. As a Critical Care Nurse I am very aware how important quick access to a defibrillator can be. So acquiring an AED for this cause became a priority for me to make happen." He goes on to recount the first trip he went on: "On that first trip I did not see a single AED outside the airport. I only saw maybe 5 rangers or police the entire day. It was easy to see we were at least 10-15 minutes from having a local AED available. Veterans will understand the Coast Guard's motto, "Semper Paratus" means always ready….we were not. The effectiveness of cardiac defibrillation greatly diminishes after the first 3-5 minutes, even with effective CPR and we needed to be prepared in the event one of these heroes needed us. I did not want to be a qualified medical professional standing there unable to help because I did not have the right equipment, I'm sure the veterans understand that too."
The Cardiac Science Powerheart G3 AED that was donated is smaller than most laptops, weighing only 7 pounds, and easily carried on excursions such as the one to the nation's capital. While it may never be used, its presence has a calming effect on Turnington.
"The WW II memorial had flights from several regional hubs show up that day and more than two hundred 80 year old plus veterans were present. You can imagine the potential need for an AED as the weather warms up in Washington, DC. Since 100% of donations are directed toward the veteran's transportation there was no budget for an AED. I was considering soliciting area businesses, hospitals and a fundraiser of some kind to raise the funds but this could take quite some time to organize. Then I saw what AED.COM was doing with their AED Giveaway. This was such a blessing to this wonderful organization and appreciated more than I can express," he says.
If you are interested in supporting this worthwhile non-profit organization, please click here:
http://honorflightdayton.org/donations/
Learn more about the Powerheart G3 AED below:
http://www.aed.com/cardiac-science-powerheart-g3-1.html
AED.com hopes these men and women enjoy their well-deserved journey, and that each trip proves uneventful with medical emergencies. But if the need should arise, Michael Turnington and his Powerheart G3 AED will be ready.