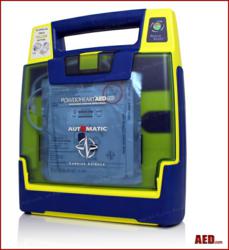 We knew right away that we wanted to donate...
Nashville, TN (PRWEB) June 14, 2012
In a focused effort to increase AED-Awareness, in 2012 AED.com, an AED sales and service company in Brentwood, TN, made a decision to donate one hundred AEDs to organizations or individuals who would benefit from having an AED but could not otherwise afford to buy one. In April, 2012 AED.com received a grant request from Autistic Services Inc. in Williamsville, New York, and knew right away that they wanted to donate an AED for each of their locations (Williamsville and Buffalo). "It is our privilege to contribute to this admirable organization that does such important work in their community," said AED.com president, Matt Spencer.
Autism is a developmental disability which usually begins before 3 years of age and is a life-long disability. The statistics are sobering: The Center for Disease Control and Prevention estimates 1 in 88 U.S. children has been diagnosed with an Autism Spectrum Disorder (ASD). ADS are nearly five times more common among boys than girls with approximately 1 in 54 boys diagnosed and 1 in 252 girls. As these children are diagnosed and move through childhood, they should receive specialized therapy that allows them to find areas of interest that may be future career paths. With statistics showing the increase in diagnoses and children reaching adulthood there is a new level of necessary resources and assistance required. Research has shown that people with Autism learn best through a structured environment, and that the earlier the intervention, the better.
Autistic Services Inc. is a non-profit organization that has been in existence since 1982 when Angela Lagenor, a parent of a child that received an autism spectrum diagnosis began the quest for finding proper treatment and specialized services that would meet the needs of her child and others with Autism. Once a family learns of their child's Autism Spectrum diagnosis, their journey begins to find local and accessible information and resources to facilitate their child's adaptation and development. Autistic Services Inc's message is: Helping our Autism Community build bridges to the world around them. People with Autism have brought light and shade to our otherwise routine world. That's why we take every chance we can get to celebrate these colorful individuals whose intelligence and unique perspective has already begun to change our world.
Organizations like Autistic Services Inc. are the gateway to the future for many children and their families by providing guidance and support in the form of education, housing, day habilitation, assistance with Medicaid services, respite care, therapeutic recreation for children and adults, after school and vacation camp, in-home clinical support, social skills groups, enrichment programs, supported employment and speech and occupational therapy.
AED.com is pleased with these Cardiac Science Powerheart G3 AED donations to Autistic Services Inc. While the AED is hopefully never called upon to be used, those being assisted and the staff may feel safer knowing it is there.
AED.com is a Brentwood, TN company that serves all 50 states and numerous countries around the globe.
http://www.aed.com/re-certified-aeds/cardiac-science-re-certified/cardiac-science-powerheart-g3-re-certified.html