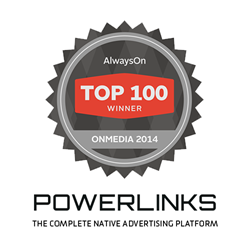 This year's winners are all pushing the boundaries of digital media and PowerLinks is excited to represent the native advertising industry in this group.
New York, NY (PRWEB) August 28, 2014
PowerLinks, the complete native advertising platform, today announced that it has been chosen by AlwaysOn as one of the OnMedia Top 100 Private Companies. Inclusion in the OnMedia 100 signifies leadership amongst its peers and game-changing approaches and technologies that are likely to disrupt existing markets and entrenched players. PowerLinks was specially selected by the AlwaysOn editorial team and industry experts spanning the globe based on a set of five criteria: innovation, market potential, commercialization, stakeholder value, and media buzz.
Ad tech dominates this year's OnMedia Top 100, with 78% of the winning companies in digital advertising. While data, social and mobile sectors retain a strong presence on the list, native advertising and content marketing are emerging as the latest trends in digital media. The list represents the whole spectrum of today's digital media sector, with company funding averages ranging from $3m to $762m, 86% of which are B2B companies.
"We are immensely proud to be on the OnMedia Top 100 list," said Kevin Flood, PowerLinks Co-Founder and CEO. "This year's winners are all pushing the boundaries of digital media and PowerLinks is excited to represent the native advertising industry in this group. Native is becoming an increasingly sought after digital advertising format and we are excited to see that popularity reflected in AlwaysOn's list."
"This year's OnMedia 100 winners are building on successes in digital media and branching out into new territory, taking advantage of today's advances in cloud computing and other on-demand services. Social commerce is flourishing, bringing prosperity to a wide variety of retail markets. Payment options are becoming even more user-friendly and secure. And media planners are using the recent data explosion to break down established practices and bring people what they want—exactly when they want it," says Tony Perkins, founder and editor of AlwaysOn.
The OnMedia 100 winners were selected from among hundreds of other technology companies nominated by investors, bankers, journalists, and industry insiders. The AlwaysOn editorial team conducted a rigorous three-month selection process to finalize the 2014 list. PowerLinks and the OnMedia Top 100 Companies will be honored at AlwaysOn's OnMedia NYC event on September 15th, 2014, at NASDAQ OMX in Times Square, New York City.
A full list of all the OnMedia Top 100 winners can be found on the AlwaysOn website.
About PowerLinks
PowerLinks is the only open technology platform powering the creation, transaction and management of native advertising. Founded in 2012 by young entrepreneurs Kevin Flood and Mike Harty, PowerLinks' focus is to empower media buyers and sellers to create meaningful ad experiences for consumers that translate into unparalleled engagement, click-through rates and conversions. PowerLinks is headquartered in New York City, with additional offices in London and Manchester, UK.
About AlwaysOn
AlwaysOn is the leading business media brand connecting and informing the entrepreneurial community in the Global Silicon Valley. Founded by Red Herring founding editor, Tony Perkins in 2003, AlwaysOn's mission is to continue to lead the industry by empowering its readers, event participants, sponsors, bloggers, and advertisers like no other media brand.
Media Contact:
PowerLinks
Annie Kempton
+1 646 741 6115
annie(at)powerlinks(dot)com