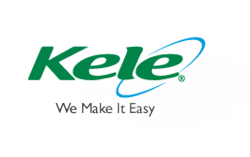 The need for accurate power monitoring has over the years significantly increased in commercial and industrial facilities.
Bartlett, TN (PRWEB) November 26, 2012
Kele, Inc., a building automation value-add distribution leader has manufactured its own line of power monitoring solutions in the USA for over 22 years. The company is marketing, selling and supporting a wide range portfolio of power monitoring solutions including makes and models from other leading manufacturers through its expansive online catalog.
The Market
The need for accurate power monitoring has over the years significantly increased in commercial and industrial facilities. One example of the need to ensure energy is being consumed in most efficient ways is in an effort to minimize imposed local utility penalty fees for exceeding peak demand allowances. Another is being as energy efficient as possible to lower overall utility costs. While in the old days it was enough to monitor power consumption for an entire building it is now much more desired to capture what is going on with sub-systems, such as chillers, data centers, HVAC unit etc.
Building automation professionals collaborate strategies with building owners to install the most economic and reliable energy power monitoring systems. What matters is a system solution that can be installed easily and set-up quickly to minimize cost. In addition, changing requirements prompt the need for power monitoring upgrades that could prove costly to business owners in order to maintain compliance.
Kele's Innovation
With customer current and future needs in mind, Kele, Inc. introduced on 10/1/12, EnGenius℠ - the first fully hardware, software and firmware field upgradable power monitor in the industry. Those upgrades could include firmware releases, functional expansions related to communication, data logging or providing additional sensor inputs for expanded signal processing and building condition monitoring.
The EnGenius℠ can be configured from its built-in keypad or remotely from an intuitively easy to use desktop software program. Coupled with the ability to power up the EnGenius℠ with 24VDC the units can be configured prior to installation and the same template can be introduced easily to multiple devices cutting down substantially the installation time experienced with traditional power monitors.
Kele's EnGenius℠ Power Monitor is proudly built in an ISO certified manufacturing environment in the USA, satisfying the highest quality standards today.
Extensive Product Portfolio
In addition to its own manufactured power monitoring systems, Kele, Inc. also offers other leading brands, such as Veris, WattNode, Honeywell E-Mon to name a few, making it easy for customers to purchase the Power Monitor and peripheral devices that have been specified for their jobs.
About Kele, Inc.
With nearly 30 years of experience, Kele is the leading value-add distributor of products, services, and solutions in the Building Automation Industry. Kele's passion is to exceed customer's expectations every day with broad product selection, excellent customer service, unmatched technical support, in-stock inventory, reliable shipping, and providing the industry standard on-line and print catalog reference guide to its customers.
FOR MORE INFORMATION:
Sally Pellegra
Kele, Inc.
(901) 382-4300 4934
Lindsey Massey
Kele, Inc.
(901) 380-4752 4752