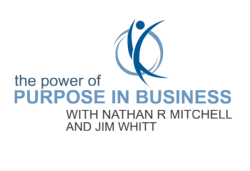 Without a purpose, our only motivation is reward and punishment! - Jim Whitt
Tulsa, OK (PRWEB) October 24, 2012
The Power of Purpose in Business, was recently launched on BlogTalkRadio™ by cohosts Nathan R Mitchell and Jim Whitt. The program, broadcast every Sunday evening at 8:00PM CST at http://www.blogtalkradio.com/powerofpurpose. The show features guests who share how the power of purpose has transformed their lives and businesses.
A recent guest, Gerald Daniels, shared how he discovered his purpose in life while serving a life sentence in prison. He was miraculously paroled five years later and today runs a multi-million dollar business.
"Gerald's story is a dramatic example of how the power of purpose transforms lives even in the most unimaginable circumstances," says Whitt, who founded Purpose Unlimited to transform live, leaders and organizations. Whitt developed a process to help people find and fulfill their purpose in life which is used in workshops and one-on-one coaching. It was in a workshop Whitt presented behind prison walls where Daniels discovered his purpose.
Mitchell spent nearly a dozen years as a mid-level manager with a Fortune 50 company but he knew he had to do something different. "I always had this feeling I was meant for something more — to serve a purpose, to contribute something of value to the world." He quit his job and founded Clutch Consulting to grow businesses and empower people.
Mitchell and Whitt co-founded The Power of Purpose in Business to deliver purpose-based solutions for people and business development. Mitchell is the author of Turn That Frown Upside Down: Discover Meaning & Fulfillment in the Workplace. Whitt is the author of The Transformational Power of Purpose: Finding & Fulfilling Your Purpose in Life and Riding for the Brand: The Power of Purpose Leadership. Learn more by visiting http://www.PowerOfPurposeinBusiness.com