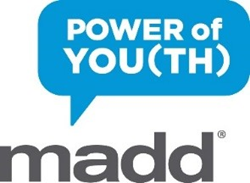 "There is an urgent need in our country to address the underage drinking epidemic that causes 4,300 deaths a year, I am grateful to State Farm for helping us save young lives," said MADD National President Colleen Sheehey-Church
Dallas, Texas (PRWEB) October 06, 2017
In an effort to decrease the devastating consequences, such as teen arrests, injuries and deaths related to alcohol, Mothers Against Drunk Driving® (MADD) and National Presenting Sponsor State Farm® are encouraging youth to protect their futures. Teens can take a stand by taking a pledge to not drink alcohol or use other drugs under the age of 21 and to never ride with a driver who's been drinking or using drugs.
Every October, as part of the Power of You(th)® program, MADD joins its partners around the country to host school and community events to empower teens to make safe choices. This year's focus, #ProtectUrFuture, is about how choices about alcohol can impact their future such as, being kicked off a sports team, not be able to attend the college of their choice or lose a college sponsorship and have an arrest on their record. Tragically there are also life-altering consequences such as alcohol poisoning and teen drunk driving.
"The decisions teens make today can impact their lives tomorrow and for years to come," said MADD National President Colleen Sheehey-Church, whose 18-year-old son Dustin was killed as a passenger in a crash caused by a teen drunk and drugged driver. "There is an urgent need in our country to address the underage drinking epidemic that causes 4,300 deaths a year, I am grateful to State Farm for helping us save young lives."
The latest research shows:

"While we are heartened to see the decline in underage drinking across the nation, it also motivates us to do more," said Lisa Joyce, State Farm Public Affairs. "We are proud of our support of MADD's Power of You(th) to educate and protect teens and their futures, so they can fulfill all of their hopes and dreams."
MADD's Power of You(th) program equips teens to resist peer pressure and influence their peers to make smart, healthy decisions about not drinking alcohol before they turn 21 and to never getting in the car with anyone who has been drinking. At school events, victims share personal stories, students receive a teen booklet with real-life stories, and learn about powerofyouth.com as an important resource.
About Mothers Against Drunk Driving
Founded in 1980 by a mother whose daughter was killed by a drunk driver, Mothers Against Drunk Driving® (MADD) is the nation's largest nonprofit working to end drunk driving, help fight drugged driving, support the victims of these violent crimes and prevent underage drinking. MADD has helped to save more than 350,000 lives, reduce drunk driving deaths by 53 percent and educate parents and teens on making safe choices. MADD's Campaign to Eliminate Drunk Driving® calls for law enforcement support, ignition interlocks for all offenders, advanced vehicle technology and designating a non-drinking driver. MADD has provided supportive services to nearly one million drunk and drugged driving victims and survivors at no charge through local victim advocates and the 24-Hour Victim Help Line 1-877-MADD-HELP. Visit http://www.madd.org or call 1-877-ASK-MADD.
About State Farm®:
The mission of State Farm is to help people manage the risks of everyday life, recover from the unexpected, and realize their dreams. State Farm and its affiliates are the largest providers of auto and home insurance in the United States. Its nearly 19,000 agents and nearly 70,000 employees serve more than 84 million policies and accounts – more than 81 million auto, fire, life, health and commercial policies, and more than 2 million bank accounts. Commercial auto insurance, along with coverage for renters, business owners, boats and motorcycles, is available. State Farm Mutual Automobile Insurance Company is the parent of the State Farm family of companies. State Farm is ranked No. 33 on the 2017 Fortune 500 list of largest companies. For more information, please visit http://www.statefarm.com/