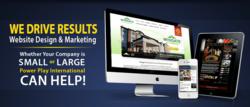 Free PPC and SEO for all of your small business needs!
New York, NY (PRWEB) June 21, 2013
Power Play International Inc, a New York City and Long Island SEO company, is proud to announce the launch of its free PPC management offer, for all small business owners who do SEO with Power Play International.
Signing up for this offer is simple and easy. Most SEO clients are looking for SEO and PPC both. By working with Power Play International, clients are able to get an effective SEO campaign, under the same roof as their pay per click campaign. Most SEO companies charge to manage a clients PPC campaign - with Power Play International, there is no fee, ever.
Power Play International has worked on many tough and difficult projects, no project is too small. If you want to contact high quality SEO, you should find a respectable SEO provider, especially after the latest Penguin algorithm updates.
Contact Power Play International today for your SEO analysis and SEO trial immediately: http://www.PowerPlayinternational.com.
About Power Play International:
Power Play International is headquartered in New York and Long Island and brings years of experience to our clients. We are a leader in search engine marketing and placement, including Search Engine Optimization, Pay Per Click, Social Media Marketing, and almost all forms of advertising and marketing. Whether it be web site design, or any other forms of advertising related to branding and lead generation, Power Play International is at the forefront of cutting, and innovative strategies.
To get more details about Power Play International, please visit powerplayinternational.com. For inquiries, please contact them through phone at this number: 212-359-1609.