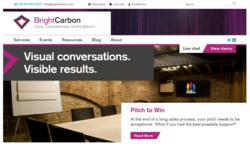 (PRWEB) June 29, 2012
BrightCarbon, a specialist presentation service agency, has launched a new website – BrightCarbon.com.
Although the company has its own in-house design resources, it decided to work with a specialist web design company. Award-winning agency fffunction was chosen for the work.
Following an in-depth requirements and strategy workshop, fffunction created wire-frames to show how the site architecture and layout would work. They then created an extensive set of designs for different sections and content types. Following approval, the site was built using the popular WordPress platform, to work in all modern browsers. The back-end of the website has been created to allow BrightCarbon significant control over all aspects of the website – from images and straplines, to articles and even the colophon.
Since the re-launch of the website, and the addition of new functionality including proactive chat for customer service, BrightCarbon has increased page views over 35%, average time on site by 45%, and has started to take orders from web-sourced traffic. Commenting, Joby Blume, Managing Consultant at BrightCarbon said "we really wanted a design for our website that showed us in our best light. We're great at PowerPoint design, but that's a specialised skill, and so is website design. We needed to work with experts.
"We've had lots of compliments which is great, but even better – we've started to actually make money from our website."
About BrightCarbon
BrightCarbon helps sales and marketing teams hit their numbers, by creating visual presentations and B2B sales tools.
BrightCarbon helps companies to tell their stories elegantly and visually, with effective sales presentations and tools that people want to use. With BrightCarbon:

Sales representatives stop wasting time creating their own collateral, and become more productive
Companies improve conversion rates and deal velocity
Average order size increases
BrightCarbon also offers an iPad sales presentation design service, aimed at companies using iPads for face-to-face sales, wishing to avoid the high costs of app development.
BrightCarbon has offices in the UK and Singapore.