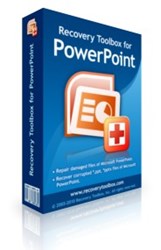 PowerPoint sets a new quality bar for PowerPoint recovery solutions.
Alexandria, VA (PRWEB) December 17, 2012
Recovery Toolbox, a major supplier of versatile data recovery solutions, presents Recovery Toolbox for PowerPoint, the most advanced tool of its kind on today's market. Based on a sophisticated file analysis and recovery engine, the program is capable of restoring the contents of seriously damaged PowePoint files after power failures, hard drive crashes, virus attacks and other incidents.
The program interface is an intuitive wizard that considerably facilitates the process of PowerPoint recovery and allows even people with no recovery experience to complete this task in a few simple steps. Recovery Toolbox for PowerPoint works with PPT and PPTX files with equal efficiency and recovers all types of items used in PowerPoint presentations: from text and images to embedded audio and video files. In case the program fails to recover data from a damaged file, the user can send it to the program developers who will attempt to recover it manually using their experience and specialized tools.
"Our goal was to offer the market a compact tool that would provide a single answer to all questions about PowerPoint recovery," explains, one of the authors of the program Alexey Korablev. "Our own tests and independent comparisons show that Recovery Toolbox for PowerPoint outperforms its closest competitors by a fair margin, speed- and quality-wise. We really hope our program has made somebody's day better – that's exactly why we create our products!"
Whole process of PowerPoint recovery is described at http://www.recoverytoolbox.com/help_powerpoint.html. Official site is http://www.recoverytoolbox.com.