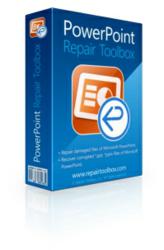 a powerful, yet easy-to-use tool that helps users restore the contents of PowerPoint presentation files damaged as the result of various data corruption incidents.
Chicago, IL (PRWEB) April 10, 2013
Repair Toolbox, developer of a growing line of specialized recovery tools, announces the release of PowerPoint Repair Toolbox, a new PowerPoint repair solution capable of opening seriously damaged PowerPoint presentation files and recovering their contents in a quick and convenient manner. The simplicity of the software and its uniquely intuitive interface enable users with little to no date recovery experience and basic computer skills to handle PowerPoint repair tasks completely on their own without any problems.
The file analysis engine of the program has been significantly improved and now uses a combination of advanced algorithms to recover as much data as possible. PowerPoint Repair Toolbox supports *.ppt and *.pptx files works in all versions of the Windows operating system. Text and the overall structure of recovered presentations are sent directly to a new PowerPoint file, while images and other embedded files are saved to the selected output folder on the user's hard drive. DOWNLOAD
"Our task was to create a tool that would help users whose presentation files got damaged to recover their data and rebuild the presentation as quickly as possible," says Ivan Bobrov, Technical Lead at Repair Toolbox. "The updated engine of PowerPoint Repair Toolbox demonstrates excellent efficiency even in cased of serious corruption, so we hope it will save the day of many users who got in trouble and cannot make presentations they were getting ready for."