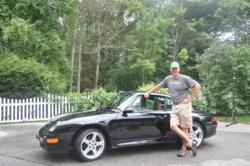 "The product is remarkable. It performs exactly as advertised. I had no idea how much of the traditional silicone-based product had built up on my tires. I'm pleased that I tried your product.....you've converted another user. Tom, Diamond Bar, California
Wilder, ID (PRWEB) December 20, 2011
PowerSheen is an innovative breakthrough in long lasting tire shine. Unlike traditional tire shine products -- it is not an oil or fluid that sits on the tire surface,ready to fling off onto paint, clothing, shop floors or wheels. PowerSheen is a fully cured bonded elastomeric coating that lasts for months. With PowerSheen, no fear of rain or snow - just wash the tires with a mild soap to bring back the shine.
PowerSheen was developed by auto enthusiasts for auto enthusiasts. Car owners were unhappy with the longevity of traditional tire shine products after carefully shining a tire, only to see the look completely gone in a matter of days. PowerSheen has spent 7 years developing PowerSheen Tire Brite - the solution to long lasting tire shine.
The PowerSheen System includes a specially designed tire cleaner, specifically developed to work with the tire dressing. The PowerSheen coating requires a clean surface to bond to the tire. Once the tire is clean, the PowerSheen coating will lock in the shine for months.
Sheen Coatings Co manufactures their product in Wilder, Idaho. They employ American workers and have developed PowerSheen Tire Brite after using a variety of tire dressings over the years. Ray Gross, owner of Sheen Coatings Co., could never find a tire dressing that lasted more than 2 weeks. Most created sling and made the tires rigid. Ray set out on a mission, a mission resulting in PowerSheen Tire Brite. Ray tested PowerSheen Tire Brite on his farm tractor tires and personal vehicles in both hot weather in the summertime and also in freezing cold temperatures during Idaho winters.
There are many kinds of tires. Traditional dressings require tires treated weekly. Some required a different formula of dressing depending on the type of tire. Where's the convenience in all that? PowerSheen Tire Brite offers a no-sling tire dressing solution that lasts up to 4 months between applications. And you can use it on any type vehicle tire. It protects and cleans tires - gently, with no sling. Tires maintain their flexibility.
PowerSheen Tire Brite works so well for so many people they want you to try it risk-free. Just try PowerSheen for 30 days.
A few testimonials from PowerSheen Tire Brite users:
"I am a new customer of Power Sheen, and their cleaner and sheen products do as they advertise. I have had the product on my tires for over a month and the product has held up in both Spring and Winter conditions in Gilroy, California". Jeff
"I LOVE your product! I followed the instructions to a tee, and my tires have looked brand new ever since!" Bart, Magna, UTAH
"I read about PowerSheen Tire Brite in our local newspaper in a story about car care products. I decided to try it. I applied it to my truck tires about month ago and they still look good. I might get 3 months before another application. You are correct in saying tires must be clean. So far, this has been the best tire product I have used. Thanks for a great product". J R Brooks Mooresville, NC
###