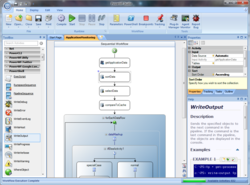 As a Windows 8 launch partner we worked closely with Microsoft to insure PowerWF thrives in Windows 8," said Brian Butler, CEO - Devfarm Software. "It's exciting to see Microsoft adopt our belief that PowerShell and Workflow are 2 sides of the same coin
St. Louis, MO (PRWEB) September 30, 2011
Devfarm Software, a Windows 8 Launch Partner, today announced that it has released a new version of its popular PowerShell workflow orchestration tool, PowerWF, and its PowerShell editor, PowerSE, with support for the preview release of Microsoft's Windows 8 platform.
Windows 8 Server, Microsoft's next generation Operating System, reconfirms Microsoft's commitment to provide platforms to meet the challenges of the next generation of cloud computing. A robust automation framework is essential in delivering cloud computing. As such, organizations will quickly discover that leveraging and orchestrating features available only in PowerShell will be paramount to survival in a Windows 8 environment.
For the 3 years PowerWF has seamlessly combined Windows PowerShell with Workflow technologies to provide users with PowerShell Orchestration. PowerWF provides a rich automation platform that lets IT Administrators harness the strengths and versatility of Windows PowerShell with a workflow Orchestration layer required to cross technical disciplines. Microsoft's continued investment in PowerShell makes PowerWF stronger than ever.
"As a Windows 8 launch partner we have been working closely with Microsoft to insure that PowerWF and PowerSE will thrive in the Windows 8 world," said Brian Butler, CEO of Devfarm Software. "It is especially exciting to see Microsoft adopting our belief that PowerShell and Workflow are really two sides to the same coin."
"We are very proud of this release," added PowerWF Product Manager Kirk Munro. "Not only have we brought PowerShell Orchestration to Windows 8, we are continuing to invest in our free PowerShell script editor, PowerSE ."
PowerSE's new features include:

Perpetual Free Licenses
Improved support for running in non-English environments
Manage scripts more easily by opening multiple files at once
Improved tracking of command history
Syntax highlighting for PowerShell type and format files
PowerWF can be downloaded from http://powerwf.com/misc/download.aspx
About Devfarm Software:
Founded in 2008, St. Louis Missouri based Devfarm Software's mission is to build world-class products to simplify and automate the daily activities of IT administrators. Devfarm Software's flagship product, PowerWF Studio delivers on this dream by leveraging Windows Workflow Foundation and PowerShell to innovate in the Administration, Virtualization, Service Desk and Monitoring spaces.
PowerVI extends this vision to simplify the automation needs of VMware administrators by allowing PowerShell scripts to be easily executed directly from the vSphere Client.
For additional information, please visit the PowerWF website at http://powerwf.com or email Devfarm Software at sales(at)devfarm(dot)com.
For questions about this release, send an email to PR(at)devfarm(dot)com or contact Devfarm Software at:
Devfarm Software, Attn: Public Relations, 2008 Altom Ct, St. Louis, MO 63146, 314.590.5800
PowerWF and Devfarm Software are trademarks of Devfarm Software, USA. PowerShell and Windows are registered trademark of Microsoft Corporation, USA. VMware and vSphere are registered trademarks of VMware. All other trademarks mentioned in this document are the property of their respective owners.
###