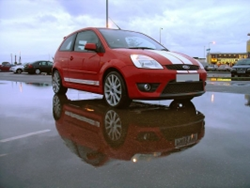 Our specialization is in Ford, Chrysler and GM gearboxes, and we've added more models that are rebuilt to our OEM inventory of builds on sale this year
San Jose, CA (PRWEB) May 21, 2015
Ford has produced its Fiesta vehicle in the U.S. since the year 2010 to introduce vehicle buyers to the dual clutch shifting system now in production. The Powertrain Pros company is now rebuilding Powershift 6-speed transmission for vehicle owners through its Michigan facility at http://powertrainpros.com/powershift-transmission-rebuilt.
The units that are available are pulled from working Fiesta vehicles and reconditioned according to factory specifications at the Powertrain Pros company. The reconditioning services that are now supplied are offered at a much lower price point compared to replacing a vehicle gearbox with a brand new edition.
"Our specialization is in Ford, Chrysler and GM gearboxes, and we've added more models that are rebuilt to our OEM inventory of builds on sale this year," a PowertrainPros.com source said.
The improved fuel economy that is featured in the Powershift system at Ford is one of the reasons that consumers have taken interest in this type of shifting system for modern vehicles. Because the models at the PTP company are factory rebuilt, these units are expected to improve horsepower and MPG due to the addition of new parts during the refurbishing procedure.
"Gearboxes that are deteriorated can contribute to reduced miles per gallon, and our rebuilds are making sure that consumers receive a performance improvement when swapping a gearbox," said the source.
The Powertrain Pros company is continuing to take orders and answer questions about in stock inventory from its toll-free number at 1-888-855-6150 offline. Consumers can also place orders while using the automated checkout tool now on the company website.
About PowertrainPros.com
The PowertrainPros.com company is know for its rebuilding of vehicle gearboxes in the U.S. from its Michigan headquarters. The company specializes in Ford and General Motors products although has added some foreign brands this year. The PowertrainPros.com company is leading the way for consumers to find good prices on reconditioned transmission inventory through its web inventory.