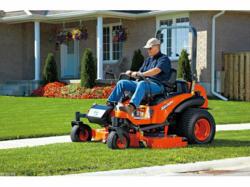 Powersports Company Owner Mark Mahoney stated, "We're very excited to add Kubota tractors, RTVs and attachments to our product offering. Kubota is a leader in product performance and we know our customers will also love Kubota!"
Beaver Dam, Wisconsin (PRWEB) February 19, 2013
Powersports Company is excited about the partnership with Kubota, as the first in class product line is a perfect fit for Powersports Company's line of quality brands. In addition to the Kubota line of tractors, zero turns, and RTVs, Powersports Company is also a Land Pride dealer, so implements including rotary mowers, tills, blades, snow blowers, etc. will be readily available at their dealership in Dodge County. 
Kubota makes an excellent addition to Powersports Company's list of great brands including Honda, Stihl, Honda Power Equipment, Simplicity, and Toro, with products ranging from tractors, chainsaws, to ATVs scooters, and motorcycles.
Powersports Company Owner Mark Mahoney stated, "We're very excited to add Kubota tractors, RTVs and attachments to our product offering. Kubota is a leader in product performance and we know our customers in Beaver Dam and the surrounding areas will also love Kubota!"
Powersports Company is located in Beaver Dam Wisconsin, right off of highway 151. You can see their large selection of products at the dealership Monday through Saturday, or online seven days a week, 24 hours a day at http://www.powersportscompany.com