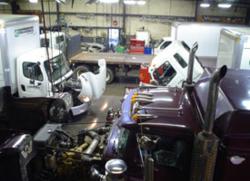 Power Train Service now offers 73 service bays throughout OH, IN, and KY. - Lyle Bass, President
Cincinnati, OH (PRWEB) August 01, 2012
Power Train Service (IN) has announced the acquisition of C. Colyer & Son's Truck Service, one of Cincinnati's largest independent truck repair shops. This makes the second service shop purchased by Power Train since 2011.
Following the close, C. Colyer & Son's Truck Service now operates 23 service bays in three locations and will continue to market itself under the same name. The shop at 11563 Reading Rd. will remain active. Owners Kirk and Charlie Colyer will also continue in leadership positions with the company.
"Through the addition of C. Colyer & Son's Truck Service, Power Train is now one of the largest privately-owned networks in the aftermarket truck parts and service industry. Some service shops offer parts sales, but we offer $18 million of inventory on the shelf. And some distributors have a few service bays, but Power Train Service now offers 73 service bays throughout OH, IN, and KY." - Lyle Bass, President.
C. Colyer & Son's Truck Service has been providing heavy duty truck service in the Cincinnati area since 1975. The employees at C. Colyer & Son's bring substantial industry knowledge and technical expertise to the Power Train vehicle service team.
Indianapolis-based Power Train employs 225 people in three states. In 2011, it served more than 4,500 customers.
Since 1921, Power Train has been providing the heavy duty truck market with a wide range of genuine and aftermarket vehicle parts. Serving the Indiana, Kentucky, Ohio, and Illinois markets, Power Train has 12 locations and offers installation services at 11 of those locations. Power Train specializes in repairing and rebuilding drive train components for heavy duty vehicles and is authorized to service Allison Automatic Transmissions.
For further information about C. Colyer & Son's Truck Service or Power Train Service, please visit
http://www.pwrtrain.com or http://www.colyertruck.com
Media Contact:
Brandon Ford
Director of Sales & Marketing
Power Train Service
Indianapolis, IN 46241
317.241.9393 x147
fordb(at)pwrtrain(dot)com