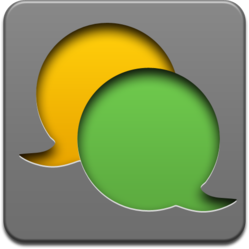 KANSAS CITY, MO (PRWEB) April 18, 2012
Leading mobile application developer Handmark® today announced the launch of POWOW Messenger for Android smartphones. POWOW is the only text messenger that lets the user include anyone on any mobile phone in their circle of friends or family, teams, coworkers, and neighbors. POWOW Messenger is immediately available for free in Google Play.
"While a number of text messaging products exist for Android, we saw the need for a single solution that easily combines the capabilities for one-to-one and group texting," said Augie Grasis, founder of Handmark. "POWOW is the only text messenger that lets you include Anyone and Everyone on any mobile device."
POWOW Messenger allows Android users to initiate messaging groups by selecting members of their existing contact list and/or entering mobile numbers. All group members can utilize full group functionality including visibility to all member replies in a single text thread, with true broadcast message and reply-all capabilities, simplifying on-the-fly coordination of schedule adjustments, venue changes, etc. for teams, groups, friends, and families.
POWOW Messenger still offers all of the advanced messaging functionality included in its Non-Group version, launched earlier this year. Popular features include Instant Access, which allows new messages to pop up on a user's device IM-style, eliminating the need to exit an app or browser to view text messages, and "ZipIt" which enables users to blacklist messages from unwanted sources or mute notifications while keeping messages visible.
Text messaging is the #1 most-used data service in the world. According to the Pew Research Center,Americans send or receive an average of 42 text messages per day, and 31% of adult mobile phone users cite texting as their preferred method of contact.
For more information, visit http://www.POWOWmessaging.com.
About Handmark
Handmark is a leading developer and worldwide distributor of mobile applications and services. With more than 12 years of mobile experience, the company has a rich history in creating many of the industry's top downloaded apps including Pocket Express, TweetCaster, and FriendCaster. Follow Handmark on Twitter and Facebook or, for more information, visit http://www.handmark.com.