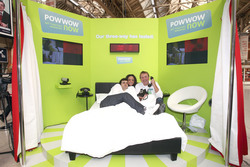 Every hour we spend on this conference call we save three penguins' lives.
(PRWeb UK) October 5, 2010
Cricket legend Phil Tufnell, glamour model Jodie Marsh and funny man Patrick Monahan have achieved the world record for the longest three-way conversation - talking non-stop for 24 hours. The chatty trio were placed in giant beds in different central London stations, talking to each other on Powwownow's free conference calls service. Phil was at Victoria station, Jodie at Waterloo and Patrick at London Bridge.
Throughout the 24 hours thousands of people got into bed with them, with several people going to see all three - including a pug dog and a six month old baby. Patrick crowd surfed and they all had a competition to see how many people they could get into bed with them at the same time, which Jodie won with 22 people - maybe another world record.
Thousands more took advantage of Powwownow's web conference technology and watched the call live on the upforathreewaycall.co.uk website and sent in questions via Powwownow's Twitter and Facebook pages.
Powwownow wanted to raise awareness of the environmental benefits of calling more and travelling less. Comedian Patrick Monahan joked, "Every hour we spend on this conference call we save three penguins' lives." The trio ultimately 'saved' 72 penguins.
About Powwownow
Powwownow was founded in 2004, offering customers low-cost conference calling facilities with the ethos of no booking, no billing, no fuss. (The customer does not need to book a conference room and never receives a bill from Powwownow, just the cost of a 0844 call added to their bill).
Turnover for 2010 is expected to reach £10m. The company operates in 15 countries including the US and major European markets.
Powwownow employs 41 people and is based in Richmond, London.
###