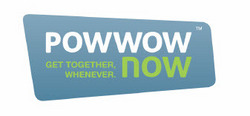 (PRWeb UK) July 29, 2010
Europe's leading free audio conference call provider, Powwownow is taking London by storm with a cheeky little campaign encouraging people to have a threesome for free at work!
The sexy campaign called 'Up For a Threesome' will kick off with guerilla activity today at the launch of Boris Johnson's London Bike Hire Scheme. Representatives will distribute free 'key holders' perfect for carrying both a cycle hire 'key' and a credit card which give the public access to the scheme.
The campaign dreamt up by consumer engagement agency, Hotcow, will see 'threesomes' taking place on a three-seater bike in and around Victoria.
The campaign will build from the guerilla activity running in July & August to a fully integrated cross-platform campaign including, radio, print,online advertising and PR.
Free conference call provider, Powwownow, embraces social media as an engagement tool and this campaign is no exception. The Twitter handle @upforathreesome will be used for updates during the promotion and Powwownow's Facebook page will keep their 600 followers informed with delicious little tasters….like 'you don't have to be French to have a ménage à trois'
Andrew Pearce, CEO of Powwownow said, 'We loved this cheeky concept and we wanted to have a bit of fun with it! We hope it will encourage people to cycle to meetings, and if they can't then why not Powwownow teleconferencing instead?'
Campaign creative is available on request.
About Powwownow http://www.powwownow.co.uk
Powwownow was founded in 2004, offering customers low-cost conference calling facilities with the ethos of no booking, no billing, no fuss. (The customer does not need to book a conference room and never receives a bill from Powwownow, just the cost of a 0844 call added to their bill). Turnover for 2010 is expected to reach £10m. The company operates in 15 countries including the US and major European markets.
Powwownow employs 41 people and is based in Richmond, London.
###