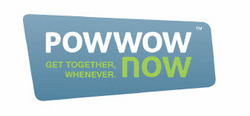 (PRWeb UK) February 21, 2011
Powwownow has released a new web conferencing tool, which is even simpler to use and is 30% faster than before, making it easier for customers to make conference calls, and allowing Powwownow to enhance its proposition as the best voice and web conferencing solution for SMEs in the UK, Europe and USA.
Andy Pearce, CEO of Powwownow says: "Web conferencing allows business professionals to share their desktop with absolutely no downloads or installs for meeting attendees. Coupling with conference calls using the same platform makes presentations, training, product demonstrations and online meetings easy and cost-effective to organise and deploy. Plus built-in chat allows communication with those who can't get to the phone."
Since acquiring a majority share in Manchester-based web conferencing and Collaboration Company, Yuuguu in August 2010, Powwownow has made a substantial investment in further development of the existing product. The latest version of Powwownow web conferencing, along with 30% faster screen sharing, also offers better screen quality, 'instant join' for meeting attendees, application-specific sharing and a greatly enhanced user interface.
The web conference tool will be offered to existing Powwownow customers for a free three month trial, after which, customers will be charged at a rate of £59 per annum, which is still around 80% cheaper than other conference call providers.
Pearce continues: "The acquisition of Yuuguu was just the start of our plan to make Yuuguu a front runner in the Web Conferencing and Collaboration market. Today we rival the likes of WebEx and GoToMeeting in terms of speed of screen sharing, but it's our additional services and attention to customer needs and feedback that really make Powwownow stand out from the crowd."
About Powwownow:
Powwownow was founded in the UK in 2004, offering customers low-cost conference calling facilities with the ethos of no booking, no billing, no fuss. The customer does not need to book a conference room and never receives a bill from Powwownow. They only pay the cost of their own call, which is added to their standard telecoms bill. The company now operates in 15 countries worldwide including the US and major European markets and recently acquired web conferencing and business collaboration providers, Yuuguu. Turnover for 2010 is predicted to reach £10m.
Powwownow employs 49 people and is based in Richmond and Manchester.
###