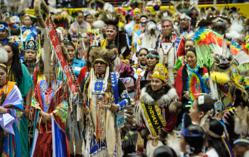 Enjoy a unique view into the culture, lifestyle and celebration of a Native American Pow Wow live.
Albuquerque, NM (PRWEB) April 01, 2013
PowWows.com, the Internet's leading resource on powwows and Native American events in the United States, has announced that they will be broadcasting the 2013 Gathering of Nations PowWow live from Albuquerque, New Mexico. Viewers will be able to tune into the 2-day event held at the University of New Mexico no matter their location and be part of this unique festival of Native American culture.
The Gathering of Nations PowWow is a unique Native American event that gathers over 3,000 indigenous Indian dancers and singers representing more than 500 tribes from Canada and the United States. For 30 years, Gathering of the Nations PowWow has brought Native American culture to the forefront of a highly ethnically varied country and offered insight into the customs of Indian culture. With the live pow wow webstream from PowWows.com, people from all over the world can tune in to be a part of this distinctive and internationally renowned event. "Last year's webcast was seen by over 20,000 viewers from around the world," says Paul Gowder, PowWows.com's CEO. PowWows.com is excited to provide the live webcast again for 2013 and looks forward to the number of new online viewers who will watch the 2013 Gathering of Nations via the PowWows.com website.
Gathering of the Nations showcases the best of Native American culture and traditions and offers something each person in the family can enjoy. The event kicks off on Saturday, April 25th at the University of New Mexico Arena, "The Pit", with the Evening Grand Entry where Miss Indian World will be crowned. This year marks the 30th anniversary of Gathering of the Nations; an event that offers an Indian Traders Market, music stage, and scholarship program in addition to the Pow Wow itself. "The Gathering of Nations is an experience for all people—Indian and non-Indian—to see the colorful Pow Wow dancing and to hear the songs and become enlightened with emotional happiness!" says Gowder.
The Gathering of Nations Pow Wow offers a special benefit to students and educators. The event can be of use to grade schools, colleges, instructors, educators, and individual students to share Native American culture in a unique way. Teachers can download free lesson plans for the webcast - http://www.powwows.com/watch-gathering-of-nations-live/
For more information on powwows across the United States or to learn more about and tune into the live, online broadcast, visit http://www.powwows.com.
About PowWows.com
PowWows.com is the leading source for all things Native American PowWow since 1996. PowWows.com offers a connection to explore Native American life, culture and history through photos, videos, forums, PowWow Calendar, Native American Information, and other resources within the Native American community for Indian and non-Indians.