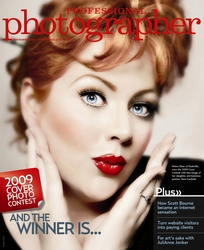 Throughout the years and many photos I've taken of Nora, I have always told her she would make a fabulous cover on a magazine
Atlanta, GA (Vocus) October 30, 2009
While many photographers dream of seeing their images on a national magazine's cover, that dream rarely comes true, but for Shan Canfield in Nashville, Tenn. (also known as Mama Shan), it will in November. Mama Shan won Professional Photographer's Cover Contest--open to all photographers--beating out almost 4,600 other entries from around the world.
A Professional Photographers of America (PPA) member, Shan created the winning image of her daughter and business partner Nora. "Throughout the years and many photos I've taken of Nora, I have always told her she would make a fabulous cover on a magazine," says Shan. "This year I've realized that dream through this contest."
Along with Shan, 20 other photographers from the 2009 Cover Contest will be recognized in Professional Photographer's November issue: five top finishers and 16 honorable mentions. Narrowing the entries was difficult, as all wowed the judges with their real-world portrait, wedding, commercial, and event photography. Many of the images also met the technical requirements for a cover, including vertical orientation, composition that allows for the masthead, immediate impact and a subject relevant to the readers.
"On the cover, printed at 300 dpi at 9.5x11 inches, every little thing in the image shows up," explains guest judge, Helen Yancy, M.Photog.M.Artist.MEI.Cr.Hon.M.Photog., CPP, API, F-ASP. "Cover images need to be nearly perfect…and the quality of the entries this year was amazing. It was tough to come up with the finalists."
While only Shan will have her image seen on the November cover, she and the other finalists also will take home prizes from contest sponsors Bogen Imaging, Canon, Kodak Professional, Emotion Media and White House Custom Colour (WHCC).
To read more about the magazine, go to http://www.ppmag.com.
Professional Photographer:
For more than 100 years, Professional Photographer, the official magazine of Professional Photographers of America, has helped readers advance careers in the photographic industry with practical yet cutting-edge lessons in the artistic, business and technical aspects of professional photography. No other magazine offers a more influential presentation of the people, trends, products and photographs changing and defining the portrait, wedding and commercial photography landscape. For more information, visit http://www.ppmag.com.
Professional Photographers of America (PPA):
PPA, the world's largest non-profit association for professional photographers, exists to assist its nearly 22,000 members in achieving their professional, artistic, and fraternal goals; promote public awareness of the profession; and to advance the making of images in all of its disciplines as an art, a science and a visual recorder of history. For more information, visit http://www.ppa.com.
Contact:
Cameron Bishopp, Director of Publications
Professional Photographers of America
404-522-8600, ext. 260
http://www.ppmag.com
# # #