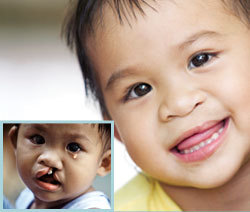 When parents participate in Family Portrait Month, it's a wonderful way to teach children the value of reaching out to others
Atlanta, GA (Vocus) October 20, 2009
Professional Photographers of America (PPA) members are helping make children's smiles even brighter in October by participating in Family Portrait Month, a national fundraising effort to benefit Operation Smile , which treats children around the world who suffer with cleft lips, cleft palates and other facial deformities.
"Recording the faces of children and their families is what photographers do," notes Richmond, Virginia, photographer Mary Fisk-Taylor, who serves as president of the PPA Charities Board of Trustees, and who was instrumental in developing the Family Portrait Month promotion. "It's hard to imagine a more appropriate charity for our members to support."
Participating photographers contribute a portion of each October Family Portrait Month sales to PPA Charities, which has chosen Operation Smile as its charitable partner. This means that the families who purchase portraits during Family Portrait Month help change the lives of children who would otherwise face a lifetime of pain and rejection.
"When parents participate in Family Portrait Month, it's a wonderful way to teach children the value of reaching out to others," adds Fisk-Taylor. "Even small children can understand the importance of Operation Smile's work, and they are eager to help these children who might not otherwise receive the medical attention they need."
Each year, Operation Smile and its network of international medical volunteers perform free surgeries on thousands of needy children. Since 1982, Operation Smile has helped over 135,000 children around the world. In as little as 45 minutes and for a cost of approximately $240, one cleft lip surgery can change a child's life forever.
Thanks to PPA photographers and the public's efforts and generosity, PPA Charities has raised over $165,000 for Operation Smile in five years and they hope to raise $70,000 this year alone.
To view a list of local studios participating in Family Portrait Month, visit http://www.FamilyPortraitMonth.com.
To watch videos of Operation Smile mission trips, visit http://www.PPAcharities.com.
About PPA Charities:
PPA Charities is a charitable, non-profit, 501(c)(3) organization dedicated to reaching out and touching the lives of children in need. It allows imaging professionals to combine their individual efforts to make an impact. In addition to pooling the resources of individual photographers, PPA Charities is a perpetual fund. The majority of donations to the foundation are invested; the profits from these investments are then given to various children's charities. (http://www.ppacharities.com)
About Operation Smile:
Founded in 1982, Operation Smile, headquartered in Norfolk, Virginia, is a worldwide children's medical charity whose network of global volunteers are dedicated to helping improve the health and lives of children and young adults. Since its founding, Operation Smile volunteers have treated more than 135,000 children born with cleft lips, cleft palates and other facial deformities and currently work in over 50 countries. In addition to contributing free medical treatments, Operation Smile trains local medical professionals in its partner countries and leaves behind crucial equipment to lay the groundwork for long-term self-sufficiency. For more information, please visit http://www.operationsmile.org.
Professional Photographers of America (PPA):
PPA, an international non-profit association for professional photographers, exists to assist its 22,000 members in achieving their professional, artistic, and fraternal goals; promote public awareness of the profession; and to advance the making of images in all of its disciplines as an art, a science and a visual recorder of history. For more information, visit http://www.ppa.com or call 800.786.6277.
Contact:
Bert Behnke, Executive Director
Professional Photographers of America
PPA Charities
708-267-0657
###