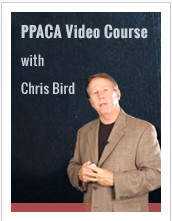 A course that outlines all the implications of the PPACA is a needed and resourceful tool for tax and accounting professionals
Orlando, FL (PRWEB) June 25, 2013
The Patient Protection and Affordable Care Act (PPACA), which was signed into law in 2010, imposes healthcare requirements on health plans, health insurers, employers and individuals, and affects the majority of US citizens and institutions. This Act has such widespread implications for tax professionals that Fast Forward Academy has added a video course about the PPACA and what it means for tax and accounting practitioners across the county.
Called The Heathcare Reform Act: A Complete Guide to Understanding the PPACA, this course will count for 5 hours of other federal tax credits and will provide an overview of the principal provisions of the law and its subsequent tax impact on individuals and businesses.
This online, self-study tax education course is presented via video and will take approximately 250 minutes to complete. Some of the topics covered include the prohibition of pre-existing condition exclusions, the proscription of lifetime and annual benefit limits, the limitation of health coverage rescissions, the requirement for certain patient protections and the requirement for universal health care coverage.
Participants will also learn about tax credits available to small businesses, shared responsibility for some large employers to provide employee health coverage (and the tax penalties imposed for noncompliance), various personal income tax changes affecting taxpayers and tax credits and tax penalties authorized to help enforce the PPACA requirement that individuals maintain minimum essential coverage.
Fast Forward Academy President, Matt McBride, says that this video course will be helpful to every tax professional in the United States. "Although the PPACA was passed into law three years ago, tax professionals are still trying to ascertain the affects of it. A course that outlines all the implications of the PPACA is a needed and resourceful tool for tax and accounting professionals," McBride states. He continues, "By offering a self-study, video-based course, we hope to reach as many tax professionals as possible and give them this information in a way that is both flexible to their busy work lives and adaptive to their learning style."
Once participants complete the course, they will be able to fully understand the principal healthcare provisions of the PPACA and identify eligible tax credits and tax penalties for businesses.
Click here to register for The Heathcare Reform Act: A Complete Guide to Understanding the PPACA.
About Fast Forward Academy
Fast Forward Academy, LLC provides companies and individuals around the world with the tools to help them efficiently manage their professional education needs. The name Fast Forward Academy reflects the scope of our mission—helping students and professionals accomplish more in less time. To realize this goal, we make every effort to provide the most useful and efficient exam prep material in the market place, all designed to help our students Learn Fast and Pass. Our principal focus is to supply rapid training and streamlined continuing education to professionals in the fields of taxation, securities and insurance.
###