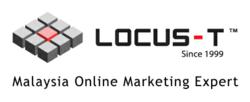 What sets apart LOCUS-T from other companies is that its service does not end post-campaign. Even after the campaign has ended, a team of experts continue evaluating its performance by analyzing the results and available statistics
(PRWEB) July 18, 2012
As one of the most reliable online marketing companies of Malaysia, LOCUS-T introduces effective PPC services that can widen exposure of a website within a short time. The biggest advantage of PPC is that it allows website owners to enjoy immediate exposure as well as targeted visitors who are specifically interested in their products or services. Other advantages of this form of marketing are that there are no restrictions on number of keywords or advertising period. As an experienced Internet marketing company, LOCUS-T makes sure that clients enjoy all these advantages, along with various other benefits.
One of the most special aspects of LOCUS-T is that it is passionate about formulating online marketing strategies. Furthermore, since it possesses experience of 12 years in this industry, it is easy for it to combine this acquired knowledge with passion and develop strategies that guarantee the client highest return on investment. Another factor that helps LOCUS-T to maintain its high quality standard is that it is trained regularly by experts of Yahoo! South East Asia and Google. This training helps marketing experts of LOCUS-T to acquire latest knowledge about SEO, PPC, thus allowing them to fulfill expectations of the client. With LOCUS-T, clients can enjoy higher impressions, click-through-rate, cost-per-click, and ads rank.
What sets apart LOCUS-T from other companies is that its service does not end post-campaign. Even after the campaign has ended, a team of experts continue evaluating its performance by analyzing the results and available statistics. This in turn, helps the client to develop future marketing models in better ways.
LOCUS-T is an experienced company that specializes in formulating effective online marketing campaigns, covering areas, such as SEO, PPC, and eCommerce. Apart from being Google AdWords Certified Partner, it is also Yahoo Authorized Reseller in South East Asia. It believes in working in close association with clients so that they can play an active role in the whole process and thus, take informed decisions. To acquire more information about this certified company, click on http://locus-t.com/ppc-plus/what-is-ppc.html.
About LOCUS-T ONLINE SDN BHD
Based in Malaysia, LOCUS-T is a certified company that offers customized PPC services. The special aspect of this company is that it continues its services even after the campaign has ended so that clients can create better marketing strategies in future.
Contact
Company Name- LOCUS-T
Telephone Number- 603-7118 2173
Fax Number- 603-7118 2176 (Malaysia)
Email Address- web(at)locus-t(dot)com
Website Address- http://www.locus-t.com