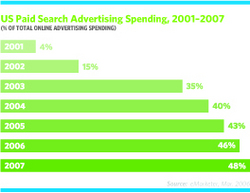 Paid search offers advantages that other forms of advertising just can't
Traverse City, MI (Vocus) March 7, 2008
Paid (PPC) search marketing has revolutionized the business of advertising worldwide. And Oneupweb knows why.
In their latest paper, Paid Search: Follow the Money, the integrated online marketing leader explores the reasons behind the growth of paid search. And they show marketers how to make paid advertising work for them, during good times and bad.
"Paid search offers advantages that other forms of advertising just can't," says Oneupweb CEO Lisa Wehr. "When integrated with a natural search engine optimization (SEO) campaign, and overall marketing plan, it will return more for every dollar spent."
According to the paper, as the amount of online advertising has steadily increased over the past decade, paid search advertising remains its largest single component. The numbers tell the tale:

Paid search accounts for more than three times the dollar revenue of classified ads, the nearest online marketing format.
Paid search claimed 48 percent of total U.S. online advertising spending in 2007.
Paid search grew 32.2 percent in 2006, while traditional media grew just .5 percent.
Wehr explains that because it's much more measurable than traditional media, paid search advertising can be assessed and refined more easily. PPC ads can be created faster and less expensively, and better facilitate responses to changing marketing conditions.
"We found, among all of our clients, that paid search improves lead generation and customer traffic. It increases conversion rates and suggested sales, and even improves brand recognition," Wehr says. "Paid search is a win-win proposition."
The paper lays out these and other advantages of paid search. It also provides marketers with important facts, statistics and real-life case studies documenting the effects of paid search advertising. In one example cited, an online retailer saw conversions grow 845 percent, with sales increasing more than 3600 percent, both as a result of paid search.
To download a free copy of the paper, visit OneUpWeb.com. For more information on Oneupweb's paid search (PPC) marketing and natural search engine optimization (SEO) services, email info@oneupweb.com or call toll free 877.568.7477.
About Oneupweb
Oneupweb has been an innovator in online marketing for more than a decade, creating integrated online marketing plans that include natural search engine optimization, paid search marketing, podcast production, social media marketing, usability audits with eye tracking and media placement. An award-winning firm, Oneupweb was named a 2006 Michigan Top 50 Company to Watch and is the only three-time winner of the prestigious ClickZ Best Search Engine Marketing Vendor Award. CEO, Lisa Wehr, an Ernst & Young Entrepreneur of the Year, has been named to BtoB Magazine's Who's Who List four years and is recognized as a Leader & Innovator by Lawrence Technological University. The company publishes a blog and podcast entitled StraightUpSearch, and their corporate podcast series, One for the Money, was honored with a 2007 Silver Davey Award. Oneupweb is a privately held company located in Traverse City, Michigan. For more information on Oneupweb, please call 231.922.9977 or visit OneUpWeb.com.
###