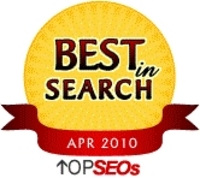 Plymouth, IN (PRWEB) April 1, 2010 -
The best PPC management services were ranked by the independent authority on search vendors, topseos.com. In order to review the thousands of applications from those seeking to be the best, a specified research team was assigned in order to focus the knowledge of the team.
The experienced research team with topseos.com completed a rigorous evaluation of each firm in order to find the best firms out of the thousands of applicants. To go one step farther topseos.com then contacts the clients of each firm to ask questions such as, "How is your PPC campaign monitored actively and how are the bid adjustments made?", " What techniques were utilized to lower the cost per conversion?", and " Are the PPC campaign reports useful and easy to understand?".
The best PPC management service for April 2010 is:
1. JumpFly, Inc.
2. SEO Moves
3. SEOP
4. WebiMax
5. Increase Visibility Inc.
6. WebMetro
7. SEO Image Inc.
8. ThinkBIGsites
9. Customer Magnetism
10. eVisibility, Inc.
11. SEO Inc
12. NETexponent LLC.
13. Location3 Media
14. Bruce Clay Inc.
15. First in Search Inc.
16. Reprise Media
17. Enquiro Search Solutions Inc.
18. Morpheus Media LLC
19. Target Logics
20. KeyRelevance
21. Page Zero Media
22. eVision LLC.
23. SpiderSplat Consulting Inc.
24. Outrider
25. Efficient Frontier Inc
26. RedFly Marketing
27. Spark Inbound Marketing
28. Distilled
29. IMAVEX Internet Marketing
30. tSunela
31. Marcei Media
32. SEER Interactive
33. Maximum Hit
34. JellyFish
35. Netvantage Marketing
36. Sales and Marketing Technologies
37. Mindfire Interactive
38. Stone Interactive Group
39. ESP Interactive Solutions Inc.
40. Zero Company
41. The DG Group
42. Internet Marketing Inc.
43. LoveClients Inc.
44. Advance Design Interactive
45. NetMark Essentials
46. iMajestic Performance Based SEO
47. Keyword Search Pros
48. ROI Revolution
49. The PPC Auditors
50. PPCGeeks.com
The independent authority on search vendors, topseos.com, recognized a need within the internet marketing industry to separate the best vendors from the rest. As such, in 2002 the site was launched with the first rankings including the best SEO company. Since then, over 50,000 monthly visitors connect with topseos.com in search of the best internet marketing services and products. In addition to the independent rankings, you can find the knowledgebase with new and other information regarding the internet marketing industry.
Pay per click firms that would like to be considered for ranking visit:
http://www.topseos.com/rankings/search-engine-marketing-agencies/apply-for-ranking
To view more information about the best PPC companies visit:
http://www.topseos.com/rankings-of-best-pay-per-click-management-companies
# # #