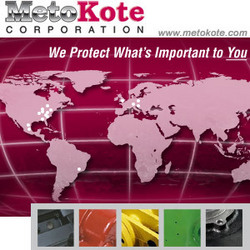 The global success of MetoKote as one of the largest coating applicators in the world would not be possible without the suppliers, whose expertise and experience support our development, production and advancements in the coatings market
Lima, OH (PRWEB) September 4, 2009
PPG Industries (NYSE:PPG), received the inaugural Supplier of the Year 2009 Award from MetoKote Corporation. During an annual executive technology update on August 19, MetoKote recognized PPG for overall excellence in delivering outstanding quality product and service.
Celebrating their 40th anniversary in the coatings market, MetoKote works with a broad range of coating material, masking and equipment suppliers. "The global success of MetoKote as one of the largest coating applicators in the world would not be possible without the suppliers, whose expertise and experience support our development, production and advancements in the coatings market," said DeWayne Pinkstaff, CEO of MetoKote Corporation. "PPG is continually improving their material to provide us with product that is environmentally "green" and has been extremely supportive in every facet of our operations to help us deliver top quality coated products to our customers."
Bill Wulfsohn, senior vice president of Industrial Coatings for PPG Industries, accepted this award from MetoKote. "It is a great honor to accept this award from MetoKote on behalf of PPG, as we pride ourselves in delivering outstanding service to all of our customers. We view MetoKote as one of our top customers and it is crucial to both of our futures that we work hand-in-hand to deliver exceptional coatings to many different industries. We have a long-standing relationship with MetoKote and look forward to partnering with them for many years to come."
PPG has been providing coating material to MetoKote since 1982 when MetoKote designed, built and installed their first electrocoat machine in Lima, OH. Today, PPG supplies electrocoat material as well as pretreatment, liquid paint and powder coat material to many of MetoKote's coating systems located around the world.
About PPG:
Pittsburgh-based PPG is a global supplier of paints, coatings, optical products, specialty materials, chemicals, glass and fiber glass. The company has more than 140 manufacturing facilities and equity affiliates and operates in more than 60 countries. Sales in 2008 were $15.8 billion. PPG shares are traded on the New York Stock Exchange (symbol: PPG). For more information, visit http://www.ppg.com.
About MetoKote Corporation:
MetoKote Corporation, headquartered in Lima, Ohio, is the industry leader in protective coating applications including electrocoating (e-coat), powder coating and liquid paint. The company serves over 1,000 customers in 32 facilities throughout the United States and the world. MetoKote provides environmentally sound and cost-effective coating solutions to a wide variety of industries such as agriculture, appliance, automotive, computer, construction equipment, electrical, furniture, industrial equipment, recreational, and truck and bus.
###