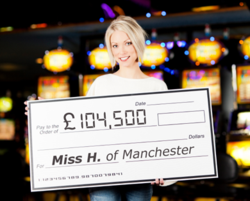 Our biggest win £104,500 from Barclaycard
(PRWEB UK) 22 October 2012
A client from Manchester has recently won an industry record breaking payout of £104,500 thanks to the efforts of Payment Protection Refunds. This all came from a client having her Barclaycard credit card for over 20 years. PPR have done a brilliant job on securing a full return of premiums in the sum of £7000+ towards payment protection insurance, plus compensatory interest of over £97,000 which overall adds up to the amount of over £104,000 which the client is understandably overwhelmed about receiving. The client has chosen to stay anonymous but has referred several of her friends and family to use the reliable services of Payment Protection Refunds.
It was back in May 2012 when the client inquired about the claim and from inception to the offer stage it took only 8 weeks. The client was so surprised when she received the amazing news of her claim she had to call the company back after half an hour just to make sure she had heard it correctly.
This is a brilliant breakthrough for PPI companies and this is one of the highest amounts awarded to a single client in the history of PPI claims. This proves banks all around have been making huge amounts of money from pointless and un-required PPI policies that many people have signed up for without any knowledge of these even existing. The main reason this claim is so high is that Barclaycard had calculated the money the client had been paying to them all the way back to 1989. The majority of banks and card holders are only provided to keep information of the client for 6 years but Barclaycard were honest in refunding the money from when the client began to take out PPI in 1989. Even if the card holder refused to give information further back than 6 years, if you have copies of all your statements for the card from its beginning then PPR can calculate the amount of money you are owed.
Payment Protection Insurance is not only sold alongside credit cards but also with loans, mortgages, car loans and catalogue accounts. The majority of cases in which PPI has been sold are ones in which it has been miss-sold, if this is the case a client can receive a full refund plus any associated interest which like the case above, can result in a large payout.
To speak to a fully trained advisor about a PPI refund claim telephone us on 0161 495 3990 or visit us at http://www.facebook.com/ClaimandGain.