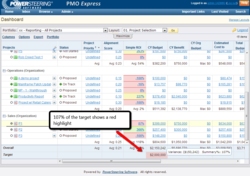 Cambridge, MA (PRWEB) April 18, 2013
PowerSteering Software, the leading cloud provider of business-driven project & portfolio management (PPM) solutions, today announced the availability of its latest product version, PowerSteering 9.4. The release focuses on raising the bar in two areas of strength for PowerSteering among cloud PPM applications: top-down portfolio analysis, and the support of large global deployments.
The two anchor features of the release are Portfolio Targets and Alternative/Retail Calendars. Portfolio Targets streamline portfolio planning and monitoring by allowing managers to set target values, such as for cost and benefit, and display them on the portfolio dashboard for real-time visibility. Additionally, Portfolio Targets provide the ability to calculate and highlight variance between actuals and targets, so executives and team members can gauge portfolio performance at a glance. When used in combination with the dashboard's include/exclude capability, Portfolio Targets also offer a quick and easy way to assess the effect of possible changes.
The introduction of Alternative/Retail Calendars allows customers to align their planning with any custom period definition. This greatly enhances PowerSteering's ability to support enterprises with unique fiscal reporting requirements, such as large retailers who often utilize four, thirteen week periods rather than standard three month quarters.
Other features in the 9.4 release similarly further PowerSteering's ability to meet the needs of global organizations. Role-based Alerts, for example, allow organizations to establish what default alerts each user will receive based upon the role they have been assigned on a project, greatly easing administration and ensuring "just right" visibility by eliminating the need to configure alerts for each user individually. Similarly, the new Sub-administrator function enables distributed administration for large organizations, allowing primary administrators to give other users the ability to configure specific parts of the system.
"Strong capability in top-down portfolio management and the support of large worldwide customers have always differentiated PowerSteering from other cloud project & portfolio management providers," observed Jay Hoskins, Director of Product Management at PowerSteering Software. "The aim of PowerSteering 9.4 was to take what we already did best, and make it even better."
About PowerSteering Software
PowerSteering Software is the cloud leader in business-driven project & portfolio management (PPM) solutions for IT Governance, New Product Development, Process Excellence, and Business PMOs. Its easy-to-use software empowers executives at Merck, PolyOne, Staples, UK National Health Service, US Department of Defense, and over 150 other customers with executive visibility, strategy alignment, and team productivity to drive strategy and accelerate results across the organization. For more information, visit http://www.powersteeringsoftware.com.