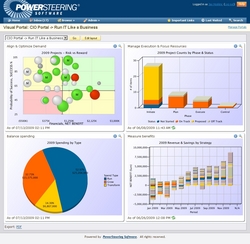 "Properly prioritizing projects and allocating resources across the enterprise are essential in today's challenging business environment." - Jeffrey M. Kaplan, founder of the SaaS Showplace and Managing Director of THINKstrategies
Cambridge, MA (PRWEB) May 13, 2010
PowerSteering Software, the leader in on-demand enterprise project & portfolio management (PPM) solutions, today announced it has been named as the recipient of a Best of SaaS Showplace (BoSS) Award. The BoSS Awards is an ongoing program which recognizes software-as-a-service (SaaS) companies that are producing tangible business benefits for their customer organizations, such as increased sales, lower costs, higher customer satisfaction, faster operations and greater profitability.
PowerSteering provides PPM software that helps organizations manage a broad range of programs and initiatives to improve business performance. Executives in information technology, new product development, Six Sigma, and business PMOs utilize PowerSteering to achieve better portfolio results through improved alignment of resources against strategic priorities, increased executive visibility of project portfolios, and streamlined execution of project management activities.
"Properly prioritizing projects and allocating resources across the enterprise are essential in today's challenging business environment," stated Jeffrey M. Kaplan, the founder of the SaaS Showplace and Managing Director of THINKstrategies, the strategic consulting firm which conceived and administers the Showplace and BoSS Awards. "PowerSteering's versatile SaaS-based PPM solution enables enterprises to cost-effectively address these challenges so they can achieve their business objectives."
The BoSS Award announcement cited several examples of the business benefits achieved by clients leveraging PowerSteering's SaaS-based PPM capabilities, including BayCare Health System, which has reduced project cycle time by 25% across its network of 10 hospitals and over 18,000 team members. A video testimonial featuring Dr. Denise Remus, BayCare's Chief Quality Officer, is available on the PowerSteering website.
"We are extremely pleased to be recognized by THINKstrategies and the SaaS Showplace for the business value of our project portfolio management software," said Stephen Sharp, PowerSteering's Chief Executive Officer. "This award further validates our focus on combining the cost benefits of SaaS with a feature-rich, highly configurable application that delivers tangible results and rapid ROI."
About PowerSteering Software
PowerSteering Software is the leader in on-demand enterprise project & portfolio management (PPM) solutions for managing Information Technology, Product Development, Six Sigma and other enterprise initiatives. Its easy-to-use software provides executives at BP Solar, Clorox, Ingersoll Rand, Merck, the UK Highways Agency, United Airlines, the US Department of Defense and over 140 other customers with executive visibility, strategy alignment, and enhanced team productivity to drive strategy and accelerate results across the enterprise.
###