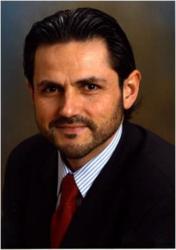 The PPS Board will give me the opportunity to further promote pricing and value management in the business world and to deliver the message about the profit potential and market power provided by sophisticated pricing strategies
Marietta, GA (PRWEB) April 16, 2012
The Professional Pricing Society (PPS), the world's only professional society dedicated to pricing education and training worldwide, is pleased to announce the addition of Stephan M. Liozu to its Board of Advisors. Mr. Liozu is the President and Chief Executive Officer of ARDEX Americas, an industry-leading manufacturer of specialty cements for building professionals in North America. A native of the South of France, and raised in Toulouse he becomes the first European-born member of the Board.
Before joining ARDEX, Mr. Liozu served as the Vice President and General Manager of Freudenberg & Company. He has gained extensive international business and pricing experience working on three continents and living in six different countries.
Mr. Liozu holds an MBA in Marketing from Cleveland State University (1991), a European Master degree from Toulouse IAE School (France) of Management with a major in Innovation Management (2005) and attended The General Management Program (TGMP) at Harvard Business School (2005). He earned a Six Sigma Green Belt in 2007 and achieved the Certified Pricing Professional (CPP) designation from The Professional Pricing Society in 2009. He has taught International B2B Pricing Strategies to Master's Degree students at Universities in Toulouse, France, and is currently pursuing a Ph.D. in Management of Management from Case Western Reserve University (Cleveland, Ohio) on the topic of the organizational journey towards pricing excellence. He is also co-authoring a book on pricing innovation with Dr. Andreas Hinterhuber that will be published in the fall of 2012.
"The Professional Pricing Society's Board of Advisors represents some of the world's foremost thought leaders within the pricing discipline. Stephan Liozu is a well-known advocate for successful pricing strategies and his dedication to furthering pricing knowledge through his research is unparalleled," said Kevin Mitchell, President of the Professional Pricing Society. "We look forward to benefiting from his insights and we believe that his unique expertise as an academic, but also as a President and Chief Executive Officer who has taken the extra steps to insure that his staff receives the best pricing training in the manufacturing industry, will be a valuable asset to the global pricing community."
Mr. Liozu has used his extensive management acumen and expertise in pricing, marketing, finance, and operations to lead his company in a "pricing transformation" and drive growth for ARDEX during an especially difficult recessionary period for manufacturers and companies who supply products for the building industry. He obtained his Certified Pricing Professional designation through PPS online training, redefining pricing's role throughout the entire organization. But he isn't stopping there. He is leading by example and developing a strong internal pricing practice. ARDEX now has 28 managers who have achieved CPP status or who are in the process of achieving their CPP.
"I am honored to join the Professional Pricing Society Board of Advisors," Liozu said. "Pricing is an important process for capturing value in the market, and top executives need to be sensitive to pricing and to embrace the best concepts in the field to transform the pricing culture in their firms. Being part of the PPS Board will give me the opportunity to further promote the pricing and value management agenda in the business and pricing communities worldwide and to deliver the message about the profit potential and market power provided by sophisticated pricing strategies."
Over the past two years, Mr. Liozu published academic articles in the Journal of Revenue and Pricing Management as well as in the Journal of Strategic Marketing. Mr. Liozu has also written several articles on Strategic Pricing issues for the Journal of Professional Pricing and is a regular presenter at Professional Pricing Society conferences in Europe and North America. He will deliver a keynote address entitled "Organizational Confidence in Pricing: An Academic and Practical Exploration" during the PPS 23rd Annual Spring Pricing Conference & Workshops to be held in Chicago on May 8-11. 2012.
"I have been involved with PPS for years," Liozu continued, "and both I and my company have significantly benefitted from their resources, events and education opportunities. I look forward to supporting PPS in developing and strengthening the global pricing community."
For more information on the Professional Pricing Society, the Board of Advisors, pricing training courses and events, and all of our other services, visit http://www.PricingSociety.com.
About Professional Pricing Society
Founded in 1984, the Professional Pricing Society (PPS) serves thousands of members, representing leading industries all over the world. The Society's mission is to nurture a growing community of professionals committed to disseminating pricing expertise throughout the business world. PPS is the only professional organization to offer a pricing certification program, and offers its Certified Pricing Professional (CPP) program via online and live event workshops. Publications distributed to members include an eight-page monthly newsletter and a 36-page quarterly journal. Further, the PPS website (http://www.pricingsociety.com) is a central resource for state-of-the-art pricing knowledge and hosts a job site where professionals can post or review new opportunities in the industry. PPS also maintains a Pricing Blog at and a Pricing Group on LinkedIn. PPS has also created a Linkedin Group focused in Asia-Pacific aimed to support the growth of the pricing profession in that thriving region of the world.
About ARDEX Americas
ARDEX is the global leader in the development, manufacturing and distribution of high-performance specialty building products. ARDEX Americas manufactures industry-best self-leveling underlayments and toppings, Moisture Control MC™ Systems, ARDEX PANDOMO® architectural concrete surfaces systems, Engineered Concrete Repair Systems, Tile & Stone Installation Products and Ultraflor® ARDEX® Diamatic® System. ARDEX also owns The W.W. HENRY Company. For more than 30 years in North America, ARDEX Americas led the industry in product performance, innovation, and technical leadership. ARDEX prides itself on providing unmatched customer service, field support, training, and a commitment to the growth and profitability of its customers' businesses. ARDEX Americas is headquartered in Aliquippa, Pennsylvania, in the Pittsburgh Region, and services North, Central and South America, and the Caribbean Basin.