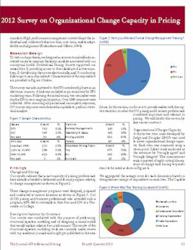 Stephan Liozu's findings demonstrate the importance of change management in the pricing function and it is our sincere hope this information matures into a constructive dialogue between pricing professionals and the C-suite.
Marietta, GA (PRWEB) January 24, 2013
Understanding the most effective drivers of corporate and enterprise-level change management is essential for organizations choosing pricing as a critical change component. This is the key insight from Stephan Liozu, pricing pundit and doctoral candidate at Case Western Reserve University, in partnership with the world's largest pricing education organization, the Professional Pricing Society.
In his research, titled "Survey on Organizational Chance Capacity in Pricing," Stephan Liozu questioned over 1000 Pricing Society members, including pricing executives and managers from over 50 countries. The new research identifies the elements that pricers view as the most necessary and supportive to achieving strategic pricing excellence.
The survey questions were based around the Judge and Douglas scale of eight dimensions of organizational change capacity, i.e. trustworthy leadership, trusting followers, capable champions, involved mid-management, innovation culture, accountable culture, effective communication, and systems thinking. Experts typically consider these change capacities when a firm wants to embark on large-scale pricing initiatives or any other large-scale corporate change project.
Pricing experts also agree that these components of change best enable the pricing departments of large enterprises to contribute a lion's share of the positive impact to the bottom line. The findings reinforce what the majority of professional pricers have experienced, and are as follows:

Change is multi-dimensional and somewhat complex.
Change initiatives related to pricing need to be properly designed to account for all eight dimensions.
Focusing on the most important change drivers ensures the greatest impact and level of organizational leadership success.
Universally survey respondents found the three most relevant dimensions of change capacity to be the following:
Working with capable champions, the importance of systems thinking and working within a culture of accountability.
The entire group rated all three of these dimensions in the top responses.
"This research project uniquely linked pricing and change management," said Kevin Mitchell, president of Pricing Society. "We are beginning to understand the particular change management components that enable an organization to successful deliver pricing transformation. Given today's low-growth environment this is vital for our members to negotiate through the minefield of change by supporting management's tough decisions and becoming their own expert champions."
Mitchell continues, "Stephan Liozu's findings demonstrate the importance of change management in the pricing function and it is our sincere hope this information matures into a constructive dialogue between pricing professionals and the C-suite."
Another important take-away of the research speaks to the pricing profession in general, says researcher Stephan Liozu. "The findings clearly show that a new additional skill-set will be required of pricers in the very near future as the profession moves from "geek to slick." By this I mean that with the advent of machine level analytics, it will no longer enough for pricers to show value through a head for numbers, neat spreadsheets and clever algorithms. Rather pricing professionals are going to need more soft skills – pricers must also, convince, persuade and become storytellers."
For more information, and to download the executive summary of the survey please click on this link: Executive Summary of Results.PDF
About the Pricing Society
The Professional Pricing Society (Pricing Society) is the world's only professional society dedicated solely to pricing training and education. Its mission is to nurture a growing community of professionally accredited pricing professionals while staying committed to disseminating pricing expertise throughout the business world. The Professional Pricing Society provides pricing professionals with current strategies, market trends, analysis, research and resources from today's leading pricing experts and technology. For more information on membership or events visit the organization's website at http://www.pricingsociety.com