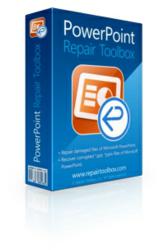 PowerPoint Repair Toolbox is released in its later version to show higher efficiency of analysis.
Alexandria, VA (PRWEB) January 21, 2013
Many users know about the efficiency of PPTX repair solution, powered by PowerPoint Repair Toolbox so the quality of PPTX repair service and other data recovery tools is well-known among its users. This software is finally released in its later, improved version so Victor Bobrov, the founder of Repair Toolbox software states this program recovers more data than before and the analysis of damaged PPTX files should not be too complicated even for not experienced customers. Besides it is free to try, therefore PowerPoint Repair Toolbox is free for testing on any computer.
The main features of PPTX repair, powered by PowerPoint Repair Toolbox includes, but not limited to the safety of analysis and compatibility with any configuration in use. Actually, the restoration of PowerPoint presentations, performed by this application, is safe because PowerPoint Repair Toolbox never modifies corrupted documents to be processed. Moreover this way of PPTX repair is offline, the analysis of damaged presentations does not imply the presence of Internet connection or LAN.
Repair Toolbox application developer releases data recovery tools and services for more than ten years and supports approximately twenty data formats. This company has a lot of experience in data recovery technologies, improving the quality of analysis in all new releases. Feel free contacting Repair Toolbox company at: http://www.pptxrepairtoolbox.com/