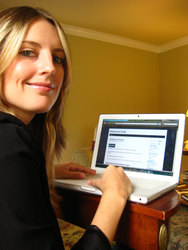 "Keep an open creative mind, stick to the basics, and try to mix & match with the items within your budget."
New York, NY (PRWEB) September 28, 2010
Cheap is the new black. Like many people, Brie Schmidt, a 26-year-old aspiring fashionista, lost her job in the great recession. To keep her spirits up, Schmidt decided to stay on top of the latest fashions while on an extremely small budget. This philosophy inspired Schmidt to create Practical and Trendy or PAT.com, a website devoted to fashion news, trends, deals and commentary from a unique perspective -- how to save money while being practical and trendy. Frugal fashion finds are chic, not cheap.
10 Practical and Trendy Tips:
1) Ask yourself how you want to change your wardrobe, why, and create a list of what you need to fulfill that change.
2) Set a budget. Create a price range for each item. Stick with it or wait for a coupon or sale.
3) Keep an open mind to various retailers, both online and offline. Many stores are changing their lines to keep up with current trends at more affordable prices.
4) Don't be afraid to be fashion forward. Express yourself with creativity and inspiration.
5) Be effortless. Yes, this takes practice. No, it won't happen overnight. Aim for simple threads, basic tops, and a favorite pair of jeans.
6) Invest in a statement jacket. This adds style and versatility to any outfit.
7) Accessorize! Accessories adds detail to the outfit - go from plain and boring to stylish.
8) Shoes. Whether it's a pair of Converse Chuck Taylor's or a pair of platform heels, shoes add character to an outfit.
9) Shop through discounters. Websites like Bluefly.com, Overstock.com and eBay's Fashion Vault sell overstock items from top notch designers and designer inspired items at a budget friendly price.
10) Keep your eyes peeled for one day only coupons (typically these are the best), friends and family promotions, flash sales etc.
"As Fashion Editor at eCoupons.com, I constantly receive news of the latest sales from retailers," said Brie Schmidt. "It's addictive and fun to share these deals with like minded frugal fashionistas. My friends & family are always asking where I got this cute shirt I'm wearing. When I say H&M or Old Navy, they're amazed that I get my clothing from price friendly shops! You just need to keep an open creative mind, stick to the basics, and try to mix & match with the items within your budget."
Practical and Trendy http://www.pat.com
Twitter: twitter.com/pat_com
Facebook: http://www.facebook.com/pages/Practical-and-Trendy/163640660318346
###