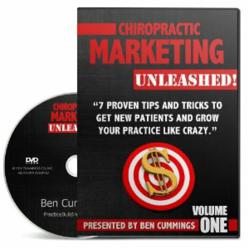 My new DVD teaches seven high probability chiropractic marketing ideas for busy doctors to utilize.
Rochester, NY (PRWEB) January 26, 2012
Ben Cummings is founder of Practice Building Center, the web's largest chiropractic marketing forum and training site containing over 300 tutorial videos and downloads.
Ben has released a new DVD available exclusively on Amazon.com, the world's largest online retailer. The new DVD features Ben Cummings on video teaching seven chiropractic marketing strategies that doctors can utilize to grow their practices.
"The purpose of this DVD is to provide practical marketing ideas that a busy chiropractor can put into action after watching the video," says Ben. The DVD title is "Chiropractic Marketing Unleashed" and it can be found on Amazon here:
http://www.amazon.com/Chiropractic-Marketing-Unleashed-Ben-Cummings/dp/B0044T6GVK
What is taught on this DVD? The content on the video is based on Ben's work with approximately 8,000 chiropractic clinics in the past 15 years. "The basis of this DVD were the successful clients that we had encountered over my career. I took a look at seven of the best approaches that have seemed to work with consistency. I included them as a compilation on this DVD to assist busy doctors grow their client base," says Ben.
Some of the topics on this DVD include: What to do when a chiropractor doesn't take a patients insurance. How doctors can utilize text messaging to increase appointments kept. What to do when a chiropractors Patient Visit Average (PVA) is too low. How to capture email of patients in an eloquent way, and much more.
Ben thinks this is important information for chiropractors, and asks chiropractors to Like his Page on Facebook to learn exclusive tips and tricks. "I'd appreciate your help in spreading the word amongst chiropractors," says Ben Cummings.
Like this? Check out Ben's last article: Chiropractic Marketing Consultant Ben Cummings Releases New Blog on Effectiveness of Twitter for Backlinks
###