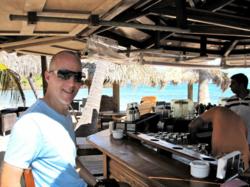 I flew down to St. Barts to show doctors how anyone can earn money passively, in the internet marketing and affiliate marketing business.
Rochester, NY (PRWEB) December 07, 2011
Ben Cummings is founder of Practice Building Center, the web's largest chiropractic marketing forum and training website. He recently traveled to the tropical island of St. Barts to film a training about how doctors can earn passive income from internet marketing and affiliate marketing.
Why is Ben Cummings uniquely qualified to teach internet marketing? He developed over two dozen small niche websites that average approximately $100 per day in passive income. He is now teaching chiropractors how to replicate his business formula to earn additional income.
"Doctors are getting abused by big insurance. No one in the industry can tell me things are getting better with regards to reimbursements," says Ben Cummings. "In addition our economy remains sluggish. Doctors reached out to me and asked me to teach them how I earn income running small niche websites. That is what made me decide to fly to St. Barts to film a series of videos sharing my business model with our clients."
Why St. Barts? Ben asserts that it was the perfect example of earning money passively. He demonstrated through a travel blog how he earned $1,100 per day while on vacation on the island from a single niche website. "I did it to prove that anyone could succeed in the internet marketing business, including chiropractors. Usually I teach chiropractic marketing, but this time I wanted to show them my approach so it would inspire them to get into this business."
Last year Ben launched a new training program called Doctors Extreme Internet Income. "Despite the strange sounding title, it turned out to be the most successful training I've ever done," says Ben. "This training was so popular that when we launched the program last year, it sold out in 120 minutes. This year, we expect the demand to be even greater. It just shows how there is a need for income diversification in the chiropractic profession."
Why is the internet marketing business a good fit for chiropractors? "Chiropractors are entrepreneurs. They are folks who took a risk to start their own business. The internet marketing and affiliate marketing business has low start up costs, it is a fun business, and it is the perfect side-line business to start while maintaining a practice."
Where can a chiropractor learn more? Doctors Extreme Internet Income is only available to members of Practice Building Center, which is Ben Cummings private chiropractic marketing membership training site.
Ben thinks this is important information for chiropractors, and asks chiropractors to Like his Page on Facebook to learn exclusive tips and tricks. "I'd appreciate your help in spreading the word amongst chiropractors," says Ben Cummings.
Like this? Check out Ben's last article: Chiropractic Marketing Consultant Releases Report About 11 Success Behaviors in Chiropractors
###