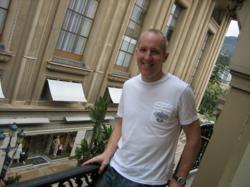 I reviewed a social media automation service that holds great promise for increasing the ranking of chiropractic websites.
Rochester, NY (PRWEB) January 18, 2012
Ben Cummings is founder of Practice Building Center, the web's largest chiropractic marketing forum and training site containing over 300 tutorial videos and downloads.
In his popular chiropractic marketing blog, ChiroBullets.com, Ben Cummings reviews SocialADR, which is a social media automation service in which users can bookmark, Facebook like, Tweet and Google +1 each others sites.
The title of this new blog post is "Review of SocialADR – Tool for Ranking Chiropractic Websites?" Chiropractors can access the new blog post at:
Chiropractic Marketing -- Review of Social ADR -- ChiroBullets.com
What is taught in this new article? Ben explains in the article that his research has revealed that search engine giants Google and Bing are both placing an ever-increasing value in what he describes as "Social Media Signals," and much less value in lower quality backlinks.
Ben asserts, in fact, that evidence now shows that the major search engines are lowering the rankings of websites that focus on low quality backlinks only.
"Evidence shows that Social Signals such as social voting through Facebook Likes and Tweets, as well as reviews on social websites, and an overall increased presence in social popularity online are the factors what will determine website popularity today and in the future - and that is where a tool like SocialADR can be useful," says Ben.
Ben reviewed and then tested the SocialADR program as a paid user. Further he did not inform the company that he would be putting the service through a testing and analysis trial. This way he could be sure that the company would not try to skew the results.
According to Ben, "After testing this service, I found that SocialADR qualified as an effective tool to help websites improve their rankings. SocialADR is composed of thousands of human (not computer) users who agree as a group to create social 'votes' to help raise the popularity of the websites of other SocialADR users."
Users create social bookmarks on sites such as Delicious, Multiply, and BookmarkerPortal. Users can also "Tweet" the link for your site via Twitter. As the votes come in, quality backlinks for your site appear. This can help increase the rank of a chiropractic website.
"In my review of the SocialADR program, we got 50 unique social votes in a two day period by simply pasting our website PracticeBuildingCenter.com URL into the SocialADR site. The social votes came from unique users in various places all over the world, which allowed our site to rise in raking for some particularly competitive keywords," says Ben.
Ben warns that SocialADR shouldn't be used in isolation. "You can't use SocialADR by itself in my opinion," says Ben. Ben recommends the SocialADR program as part of a larger chiropractic marketing plan for any chiropractic site looking to improve its ranking and visibility.
Where can a chiropractor learn more? Chiropractors can subscribe to ChiroBullets for free. They should visit Ben's http://blog.practicebuildingcenter.com/ at ChiroBullets.com. Ben says, "There is no cost to participate in the excellent articles and tutorials being shared on the ChiroBullets.com blog. Chiropractors will be impressed by the quality of our tutorials."
Ben thinks this is important information for chiropractors, and asks chiropractors to Like his Page on Facebook to learn exclusive tips and tricks. "I'd appreciate your help in spreading the word amongst chiropractors," says Ben Cummings.
Like this? Check out Ben's last article: New Blog Post from Chiropractic Marketing Consultant Ben Cummings Explains How Changes in Google Will Influence a Chiropractic Websites's Ranking
###