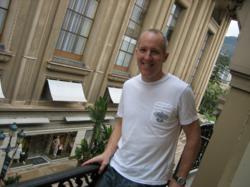 Consistency is a "must do" on Twitter & Facebook if you want to grow your list on these platforms. You can achieve this with the help of Hootsuite.
Rochester, NY (PRWEB) February 07, 2012
Ben Cummings is founder of Practice Building Center, the web's largest chiropractic marketing forum andtraining site containing over 300 tutorial videos and downloads.
Ben's latest venture is a blog called ChrioBullets.com. The blog places a focus on chiropractic marketing tips and strategies, with a focus on getting more patients. Today, Ben published his latest post, titled "To to Use Hootsuite to Build a List of Patients".
Chiropractors can access the new blog post here:
http://blog.practicebuildingcenter.com/how-to-use-hootsuite-to-build-a-list-of-patients/
Ben makes it clear in the blog post that there are many advantages for a Chiropractor who uses Hootsuite.
After telling readers about Hootsuite's ability to pre-schedule Twitter and Facebook messages, Ben presents the reader with an informative video. This presentation outlines the use of Hootsuite in the capacity of a Chiropractor.
Ben's new blog post transparently highlights the advantages a list-building Chiropractor will get, compared with a Chiropractor who chooses to ignore the concept.
Ben relates the importance of this lead generation tool to an earlier post about President Barack Obama. "In my article on Obama List Building technique here, we learned that President Obama takes list building very seriously. Heck, he even has turned the White House homepage into a freakin' squeeze page!!" says Ben.
Chiropractors are faced with many list building platforms. Ben advises that focus is placed on email lists, Twitter lists and Facebook lists.
"Forget the internet for a moment. When doing an offline reactivation campaign, most doctors mail one postcard. And that's it. Would you like to know how to get 3x's the response rate from the same campaign? Send a postcard + send out a reinforcing email + send a voice broadcast" Ben advises, discussing the three platforms previously mentioned.
The new blog post makes it clear that the best way to create consistency with these list building techniques is to automate and schedule updates. Hence, Ben strongly advises all Chiropractors to download and use Hootsuite. Ben even offers a useful posting schedule to ensure success.
"If you can follow this posting schedule that I just shared, over time you will be building a huge local list of potential patients which you will forever be able to profit from" Ben concludes.
Where can a chiropractor learn more? Chiropractors can subscribe to ChiroBullets(TM) for free. They should visit Ben's chiropractic marketing blog at ChiroBullets.com. "Chiropractors can start receiving ChiroBullets (TM) for no cost. They are daily, hand-picked chiropractic marketing tips and superb marketing tutorials. They are delivered to your inbox email as soon as they hit the scene," says Ben.
Ben thinks this is important information for chiropractors, and asks chiropractors to Like his Page on Facebook to learn exclusive tips and tricks. "I'd appreciate your help in spreading the wordamongst chiropractors," says Ben Cummings.
Like this? Check out Ben's last article: New Blog Post From Ben Cummings, Acclaimed Chiropractic Marketing Consultant, Announces Reasons Chiropractors Should Ditch 'Big Insurance'
###