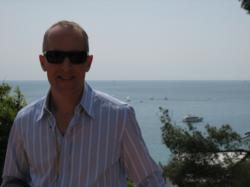 It is stunning to me how few doctors can get themselves to wake up an extra hour and do something like this.
Rochester, NY (PRWEB) February 08, 2012
Ben Cummings is founder of Practice Building Center, the web's largest chiropractic marketing forum andtraining site containing over 300 tutorial videos and downloads.
Ben's latest venture is a blog called ChrioBullets.com. The blog places a focus on chiropractic marketing tips and strategies, with a focus on getting more patients. Today, Ben published his latest post, titled "For Chiropractors Only – Daily habit that doubled practice".
Chiropractors can access the new blog post here:
http://blog.practicebuildingcenter.com/for-chiropractors-only-daily-habit-that-doubled-practice/
In his latest blog post, Ben Cummings introduces the reader to a remarkable story of a Doctor. This Doctor made one small change which ultimately affected his practice forever:
"Ben, I doubled my practice thanks to something you taught me. It is a pretty simple thing that I did. I began a daily habit. My clinic is open four days per week.I decided that for those four days that I would wake up an extra hour early to just think about marketing" says the Doctor quoted on Ben's blog.
The doctor proceeds to explain that he started getting up an hour early each day. By sitting down with a cup of coffee and a legal pad, he would write down ideas to improve his marketing.
"This daily habit has enabled me to construct a marketing pole program for my clinic. Many ideas don't work. Some work. I keep the ones that work. This took me a few months but I have been able to double my clinic thanks to this daily habit" the Doctor adds.
Ben continues to urge the reader to follow in the footsteps of the Doctor and consider employing the same ethic. However, as Ben attests "most people will probably listen to this and do nothing".
In response to this, Ben offers readers a challenge to prove him wrong:
"Prove me wrong! Follow through and try this!How badly do you want success in practice?Well, then you know what to do my friend. Set that alarm clock…Tonight! Now go out there and make something great happen" he concludes.
Where can a chiropractor learn more? Chiropractors can subscribe to ChiroBullets(TM) for free. They should visit Ben's chiropractic marketing blog at ChiroBullets.com. "Chiropractors can start receiving ChiroBullets (TM) for no cost. They are daily, hand-picked chiropractic marketing tips and superb marketing tutorials. They are delivered to your inbox email as soon as they hit the scene," says Ben.
Ben thinks this is important information for chiropractors, and asks chiropractors to Like his Page on Facebook to learn exclusive tips and tricks. "I'd appreciate your help in spreading the wordamongst chiropractors," says Ben Cummings.
Like this? Check out Ben's last article: Ben Cummings, Famous Chiropractic Marketing Consultant, Announces Newly Discovered Method to Win Chiropractors More Patients
###