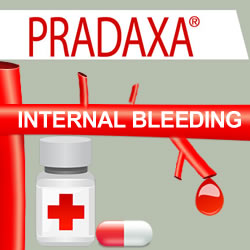 (PRWEB) July 19, 2012
OnlineLawyerSource.com created an infographic to assist individuals in learning about the risks associated with Pradaxa®. The infographic includes information about the drug as well as information about the risk for internal bleeding.
Pradaxa® (dabigatran), a drug used to prevent strokes in patients with atrial fibrillation (AF) has been associated with serious internal bleeding events. In fact, reports of internal bleeding-related deaths among Pradaxa® patients have raised concerns over the safety of the drug.
The U.S. Food and Drug Administration (FDA) issued a safety communication last December, stating that is was evaluating post-marketing reports of serious bleeding events in people that were taking Pradaxa®.
"Bleeding that may lead to serious or even fatal outcomes is a well-recognized complication of all anticoagulant therapies," the FDA said in the safety communication. "FDA is working to determine whether the reports of bleeding in patients taking Pradaxa® are occurring more commonly than would be expected, based on observations in the large clinical trial that supported the approval of Pradaxa®."
The infographic outlines common signs and symptoms of internal bleeding. Patients taking the drug should be aware of these symptoms and should seek medical care if they experience uncontrollable bleeding, frequent nosebleeds, headaches, discolored urine or stools, coughing up blood, unexplained weakness, fatigue, and/or any other unusual symptoms.
About OnlineLawyerSource.com
OnlineLawyerSource.com is an online resource, designed to assist individuals in learning about various legal topics.