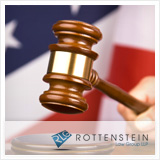 Excessive bleeding incidents are at the center of Pradaxa lawsuits in federal court.
(PRWEB) May 13, 2013
A major medical journal published a study this month that reported an alleged increase in deaths in patients with closed head injuries who use the blood thinner Pradaxa.* The Pradaxa attorneys at the Rottenstein Law Group LLP acknowledge the study's results, noting that excessive bleeding is among the drug's alleged side effects the firm hears about from prospective Pradaxa plaintiffs.
A cohort of Palm Beach County, Florida, surgeons reviewed data from procedures on adults over 18 years old who suffered different types of closed head injuries and then determined if the patients were using warfarin, Pradaxa (dabigatran), or were not using any anticoagulation drugs, according to the study published in the May 1, 2013, edition of the Journal of Neurosurgery.
"Alleged excessive bleeding incidents are at the center of Pradaxa lawsuits in federal court," said Rochelle Rottenstein, principal of the Rottenstein Law Group LLP, referring to a multidistrict litigation formed in federal court in Illinois (In re Pradaxa Products Liability Litigation, MDL-2385, U.S. District Court for the Southern District of Illinois (East St. Louis)).
The Rottenstein Law Group LLP encourages those who were allegedly harmed by Pradaxa to visit the firm's website to download a free brochure to help them determine if they have a case.
*thejns.org/doi/pdf/10.3171/2013.3.JNS12503
For the latest news on defective medications and medical devices and related lawsuits, visit the Rottenstein Law Group LLP's Injury Lawyer Newswire at http://www.injurylawyernewswire.com. Readers can subscribe to the news site's stories and videos to stay on top of personal injury news.
About THE ROTTENSTEIN LAW GROUP LLP
The Rottenstein Law Group LLP is a New York-based firm that represents clients nationwide in mass tort actions. The firm was founded by Rochelle Rottenstein, who has more than two decades of experience as a lawyer, to represent clients hurt by defective medical devices. (Attorney advertising. Prior results do not guarantee a similar outcome.)
Contact:
The Rottenstein Law Group LLP
Rochelle Rottenstein, Esq.
321 W. 44th Street
# 804
New York NY 10036
(212) 933-9500 (office phone)
(212) 933-9980 (facsimile)
rochelle (at) rotlaw (dot) com
###