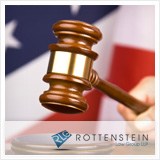 The problem with Pradaxa is that it works too well.
(PRWEB) February 06, 2013
A California company is working on a way to counter the blood-thinning effects of Xarelto and Eliquis, two competitors to Pradaxa, a drug currently the subject of lawsuits in the U.S. District Court for the Southern District of Illinois (MDL-2385), according to a Med Page Today report. However, the Rottenstein Law Group notes with concern that the antidote would not work with Pradaxa, whose side effects include excessive bleeding, one of the side effects over which clients pursue lawsuits.
Portola Pharmaceuticals of South San Francisco, Calif., announced this week that the antidote was undergoing clinical trials, according to the Med Page Today report.* While this might be good news for patients who use those anticoagulants, those who use Pradaxa, manufactured by Boehringer, could still be at risk of excessive bleeding.
Rochelle Rottenstein, principal of the Rottenstein Law Group, which represents clients nationwide, said the excessive bleeding is a common side effect cited by those looking to file a Pradaxa lawsuit. The Rottenstein Law Group maintains a Pradaxa Lawsuit Information Center that provides a comprehensive look at the drug's history, side effects and information to help victims evaluate if they have a case.
"The problem with Pradaxa is that it works too well," she said, noting reports the FDA has received. The FDA approved Pradaxa in 2010 as a blood-clot prevention medication. Until that point, warfarin had been the most commonly prescribed drug of that variety for decades. In 2011, though, side effects associated with Pradaxa became apparent. The most prevalent was excessive bleeding. According to Bloomberg**, the FDA received reports of 542 deaths and 3,781 side-effect incidents tied to the drug. In December 2012, the FDA recommended that patients with mechanical heart valves should not use Pradaxa.
*medpagetoday.com/Cardiology/Prevention/37219
**bloomberg.com/news/2012-12-11/boehringer-sued-by-hundreds-over-bleeding-tied-to-pradaxa.html
About THE ROTTENSTEIN LAW GROUP
The Rottenstein Law Group is a New York-based firm that represents clients nationwide in mass tort actions. The firm was founded by Rochelle Rottenstein, who has more than two decades of experience as a lawyer, to represent clients hurt by defective medical devices. (Attorney advertising. Prior results do not guarantee a similar outcome.)
Contact:
The Rottenstein Law Group, LLP
Rochelle Rottenstein, Esq.
321 W. 44th Street
# 804
New York NY 10036
(212) 933-9500 (office phone)
(212) 933-9980 (facsimile)
rochelle (at) rotlaw (dot) com
http://www.rotlaw.com
http://www.rotlaw.com/pradaxa-lawsuit/