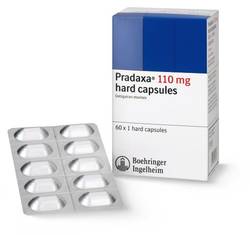 Some victims of Pradaxa bleeding have already filed lawsuits.
Orlando, FL (PRWEB) May 11, 2012
The Pradaxa Resource Center, a patient advocacy group, is alerting patients taking the atrial fibrillation drug Pradaxa of research showing the drug may have higher rates of death or serious internal bleeding than the traditional blood thinner Coumadin.
Some victims of Pradaxa bleeding have already filed lawsuits. If you have questions about an internal bleeding episode after taking Pradaxa, contact the Pradaxa Resource Center for more information.
On May 4, researchers at the 2012 Thrombosis and Hemotasis Summit of North America in Chicago announced early data from a study which examined the health risks of alternative blood thinners. The review, sponsored by Alere Inc., found doctors removing patients from Pradaxa earlier and more often than Coumadin (warfarin) due to complications during treatment.
Coumadin has been used for decades as a blood thinner in patients suffering from atrial fibrillation to prevent blood clots and strokes, however, it requires frequent patient exams. The launch of Pradaxa in October 2010 began a wave of alternative anticoagulant drugs which claim to be safer or more effective.
Unfortunately, however, the FDA warned in December, 2011 that it would launch an investigation into the safety of Pradaxa after receiving higher than expected reports of injury or death.
Researchers in this study examined 2,200 patients taking an oral blood thinner. While only .88% of patients on warfarin experienced complications, the rate of complications with Pradaxa patients was a shocking 11.5%. Some of the side effects of Pradaxa patients included internal bleeding, heart attack, DVT, gastrointestinal problems and even death.
In January, the Institute for Safe Medication Practices reported that the FDA received more cases of Pradaxa internal bleeding during the first quarter of 2011 than with any other drug. This included over 500 cases of Pradaxa bleeding compared to only 176 from patients taking warfarin.
Many patients affected by internal bleeding after taking the drug have now contacted the Pradaxa Resource Center to inquire about their legal options based on the failure of Boehringer Ingelheim to warn of the risks.
Last month, a wrongful death lawsuit was filed against the manufacturer on behalf of a Tennessee woman who allegedly bled to death from Pradaxa side effects. Filed on April 3, 2012 by Marlene Wright on behalf of the Estate of Gertrude Eubanks, the suit alleges Eubanks died from internal bleeding on April 4, 2011, just days after she started using the drug.
The case is Marlene Wright et al v. Boehringer Ingelheim Pharmaceuticals, Case Number: 2:2012cv02262 (Western District Court of Tennessee)
Legal experts with the Pradaxa Resource Center fear that, due to the amount of people prescribed the drug in recent years, thousands may seek legal help and file a potential pradaxa lawsuit for a serious injury or death.
For more information on the research, warnings, side effects and legal options relating to the drug Pradaxa, or to speak with a lawyer, visit http://www.Pradaxa-lawsuits.org.