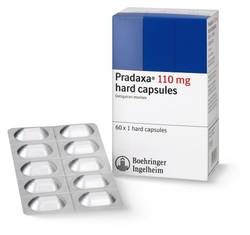 Pradaxa reached the $1 billion sales mark for the 12-month period ending in February.
Dallas, Tx (PRWEB) May 18, 2012
The Pradaxa Resource Center, a patient advocacy group, is alerting patients taking the drug Pradaxa for their atrial fibrillation of research showing it may have higher rates of death or serious internal bleeding than traditional blood thinners.
The news comes as Boehringer Ingelheim, who makes Pradaxa, recently announced it had reached blockbuster status. According to an April 24, 2012 article in The Wall Street Journal, Pradaxa reached the $1 billion sales mark for the 12-month period ending in February.
On December 7, 2011, the FDA warned it was investigating the safety of Pradaxa after receiving higher than expected reports of injury or death. The manufacturer itself had just admitted to receiving more than 260 death reports from the drug.
In January, the Institute for Safe Medication Practices reported the FDA received more cases of Pradaxa internal bleeding during the first quarter of 2011 than with any other drug. This included over 500 cases of Pradaxa bleeding compared to only 176 from patients taking warfarin.
On May 4, researchers at the 2012 Thrombosis and Hemotasis Summit of North America in Chicago announced early data from a study which examined the health risks of alternative blood thinners. The review, sponsored by Alere Inc., found doctors removing patients from Pradaxa earlier and more often than Coumadin (warfarin) due to complications during treatment.
While examining 2,200 patients, researchers found that only .88% of patients on warfarin experienced complications versus a shocking 11.5% of those taking Pradaxa. Some of the side effects of Pradaxa patients included internal bleeding, heart attack, DVT, gastrointestinal problems and even death.
Although all anticoagulants carry a risk of internal bleeding, most have a reversal agent available to doctors in emergency. A March 6, 2012 report by the Journal of Neurosurgery detailed a specific case and complaints by doctors that once Pradaxa causes internal bleeding in a patient, there is very little they can do to stop it.
Many patients affected by internal bleeding after taking the drug have now contacted the Pradaxa Resource Center to inquire about their legal options based on the failure of Boehringer Ingelheim to warn of the risks.
Those affected by Pradaxa have already started filing lawsuits, such as the one filed last month by the family of a Tennessee woman who allegedly bled to death after taking the drug. The case is Marlene Wright et al v. Boehringer Ingelheim Pharmaceuticals, Case Number: 2:2012cv02262 (Western District Court of Tennessee)
Legal experts with the Pradaxa Resource Center urge anyone who has been affected by internal bleeding after taking the drug to speak with a lawyer about their legal options.
For more information on the research, pradaxa warnings, side effects and legal options relating to the drug Pradaxa, or to speak with a lawyer, visit http://www.Pradaxa-lawsuits.org.