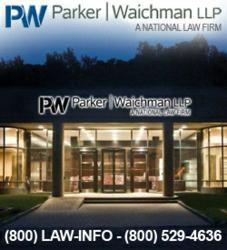 A Pradaxa patient showed up in the emergency room after falling in his home. "We pretty much threw the whole kitchen sink at him," Dr. Cotton said. "But he still bled to death on the table…You feel helpless."
New York, New York (PRWEB) November 07, 2012
Parker Waichman LLP, a national law firm dedicated to protecting the rights of victims injured by defective drugs, is notifying the public about the risks associated with Pradaxa, a blood thinner prescribed to patients with atrial fibrillation. The drug, which has been on the US market for two years, has raised safety concerns due to its bleeding risks. In a report released on November 2nd, the U.S. Food and Drug Administration (FDA) stated that the bleeding rates for Pradaxa were not higher than warfarin, a decades-old treatment.
According to the FDA's Drug Safety Communication, "bleeding rates associated with new use of Pradaxa do not appear to be higher than bleeding rates associated with new use of warfarin." A report in the New York Times, however, points out the fact that this report did not mention the lack of an antidote, which is a primary issue with the drug. This means that if a Pradaxa patient suffers from hemorrhaging, doctors can do little to treat their condition. Dr. Bryan A. Cotton, who is a trauma surgeon at Memorial Herman-Texas Medical Center, told the New York Times about the death of a Pradaxa patient who showed up in the emergency room after falling in his home. "We pretty much threw the whole kitchen sink at him," Dr. Cotton said. "But he still bled to death on the table…You feel helpless."
Doctors say that although warfarin (sold under the brand name Coumadin) has its downsides, at least there are ways to stop the bleeding in these patients. Dr. Richard H. Schmidt, an associate professor of neurosurgery at the University of Utah, told NYT "The practical experience is that once hemorrhagic complications occur in this drug, it is much more likely to be a catastrophe than with Coumadin."
Meanwhile, other reports lament the methodology used to assess Pradaxa's bleeding risks. The FDA used its Mini-Sentinel pilot, which uses insurance claims and administrative data to determine the rates of gastrointestinal and intracranial hemorrhage associated with the use of Pradaxa. According to Forbes, the agency also employed a method known as "unadjusted incidence rate ratios." Forbes reports that this type of analysis "performs poorly," based on information from the Observational Medical Outcomes Project (OMPO). OMPO is a non-profit organization formed by the FDA, PhRMA and the Foundation for the NIH to determine the most reliable means for analyzing data. Forbes reports that "data presented at an OMOP symposium in June suggest the Pradaxa analysis pursued by Sentinel may be problematic."
According to the Institute for Safe Medication Practices (ISMP), there were more adverse event reports associated with Pradaxa than any other drug last year. It surpassed all other drugs in several categories, including hemorrhage, acute renal failure and stroke.
Parker Waichman LLP is offering free lawsuit consultations to victims of Pradaxa bleeding side effects. If you or a loved one took Pradaxa and experienced a life-threatening bleeding event, please contact their office by visiting the firm's Pradaxa internal bleeding page at yourlawyer.com. Free case evaluations are also available by calling 1 800 LAW INFO (1-800-529-4636).
Contact:
Parker Waichman LLP
Gary Falkowitz, Managing Attorney
(800) LAW-INFO
(800) 529-4636
http://www.yourlawyer.com