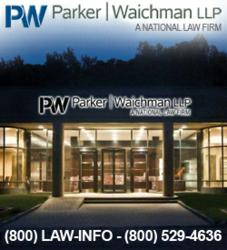 New York, NY (PRWEB) September 26, 2012
Parker Waichman LLP, a national law firm dedicated to protecting the rights of victims injured by defective drugs, is alerting the public to a new study which has found that despite the 2010 introduction of Pradaxa as a treatment to prevent stroke in people with atrial fibrillation, the rate of oral-anticoagulant therapy in that patient population has not changed. At the same time, researchers at the Johns Hopkins Bloomberg School of Public Health found that the use of Pradaxa to treat off-label indications, such as deep vein thrombosis, has increased.
In October 2010, the U.S. Food and Drug Administration (FDA) approved Pradaxa to prevent blood clots and stroke in patients who have atrial fibrillation. According to the National Heart Lung and Blood Institute, atrial fibrillation is the most common form of cardiac arrhythmia, a condition where the heart beats at an abnormal rate. Patients with the condition face a higher risk of suffering blood clots and strokes.
This new study, which was published in the journal Circulation: Cardiovascular Quality and Outcomes, utilized data from the IMS National Disease and Therapeutic Index to quantify pharmacy expenditures for Pradaxa and warfarin from 2007 through 2011. The research team found that while doctors have rapidly adopted Pradaxa since its introduction, the majority of patients with atrial fibrillation (only 2 in 5) still aren't receiving any anti-coagulant therapy at all. The study also reported that the proportion of Pradaxa expenditures reported for the fourth quarter of 2011 that were related to atrial fibrillation decreased from the same period the year prior (63%, down from 92%). This corresponded to an increase in Pradaxa expenditures related to off-label uses, the study authors said.
Pradaxa was introduced as an alternative to warfarin, a blood thinner that has been on the market for decades and is sold under the brand name Coumadin. Like all blood-thinners, both warfarin and Pradaxa can cause serious internal bleeding. However, there is no readily available reversal agent for Pradaxa hemorrhaging, an issue that was highlighted this past March by a case study published in the Journal of Neurosurgery which detailed the death of a Pradaxa patient from a cerebral hemorrhage after a ground-level fall in his home.
In December, the FDA launched a safety review of Pradaxa after Boehringer Ingelheim, the maker of the drug reported approximately 260 Pradaxa-related deaths to the European Medicines Agency's (EMA) database. In their latest QuarterWatch Report, the Institute for Safe Medication Practices (ISMP) said that Pradaxa "accounted for so many reports of serious adverse drug events that was prominent in several different categories." In addition to being cited in 542 patient deaths, Pradaxa was named in 2,367 cases of hemorrhage, 291 cases of acute kidney failure and 644 cases of stroke.
Most recently, a report published in the Journal of the American Medical Association (JAMA) that analyzed the risks of expedited FDA approval for various medications asserted that Pradaxa was allowed to come to market without proper safety evaluation.
Parker Waichman LLP is offering free lawsuit consultations to victims of Pradaxa bleeding side effects. If you or a loved one took Pradaxa and experienced a life-threatening bleeding event, please contact their office by visiting the firm's Pradaxa internal bleeding page at yourlawyer.com. Free case evaluations are also available by calling 1 800 LAW INFO (1-800-529-4636).
Contact:
Parker Waichman LLP
Gary Falkowitz, Managing Attorney
(800) LAW-INFO
(800) 529-4636
http://www.yourlawyer.com